Cleveland rocks rides.
With this week's launch, the CLE has become the first city in Ohio to offer Bird's multimodal fleet of shared Bird Three scooters and, now, Bird Bikes. 
One hundred of our distinctive Electric Sky Blue bikes will be made available for rent through the Bird app in Cleveland at a moment when the average price for a gallon of regular gas statewide has topped $4.00 according to AAA.
"Bird's e-bike launch is a piece to the puzzle of improving mobility in Cleveland," said Jacob VanSickle, Executive Director of Bike Cleveland. "More accessible and readily available micromobility devices, including bikes and scooters, provide a range of benefits including improved health, less air pollution and improved mobility."
Each shared Bird Bike is equipped with a high-powered motor capable of helping riders in Cleveland coast up hills with as much as a 20% grade without breaking a sweat. Additionally, our bikes feature Bird's advanced onboard diagnostics and geospeed technology, multi-mode geolocation, and high-durability pneumatic tires for safe, smart and efficient bikeshare operations.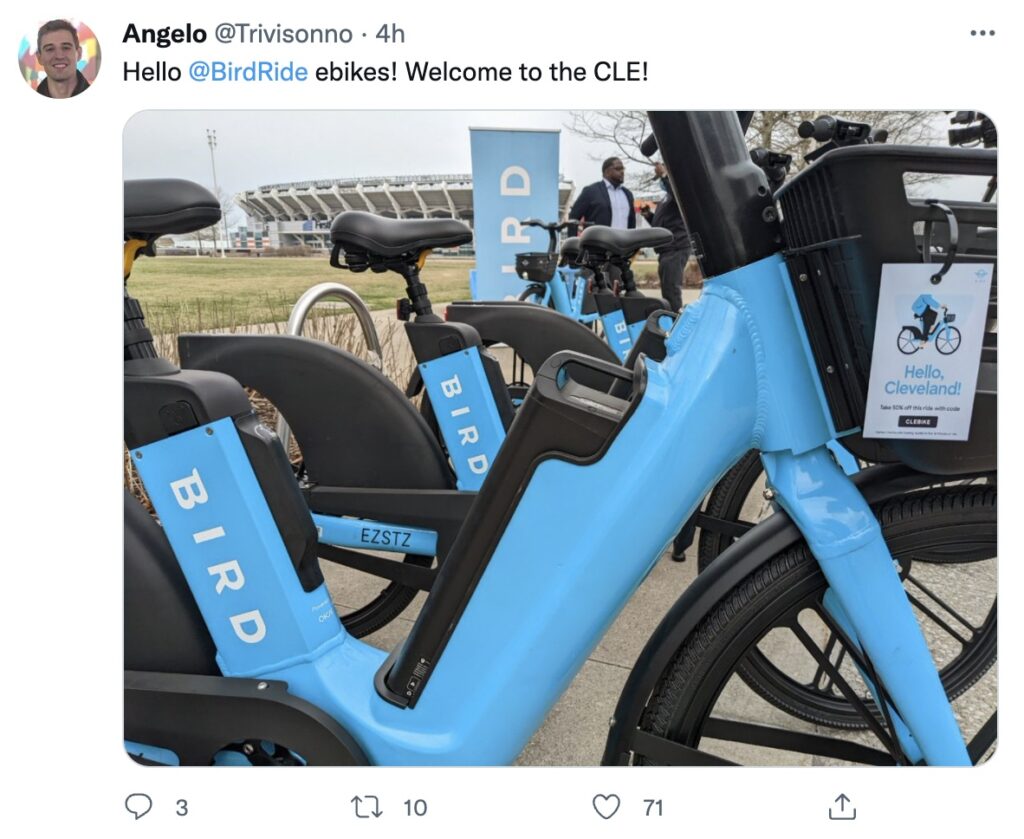 "We are thrilled to add Bird e-bikes to the shared micromobility options in the City of Cleveland," Mayor Justin M. Bibb said. "Scooters and bikes are a convenient and sustainable option for short trips around the city. There are currently four shared mobility companies working with city departments, local universities, Cuyahoga County and our residents to ensure these efforts are as safe, useful and equitable as possible."
Cleveland joins a growing list of global cities including San Diego and Newark in the US and Rome and Bordeaux in Europe now offering shared Bird Bikes in addition to our industry-leading e-scooters. The launches come as rising gas prices have helped trigger a spike in e-bike demand, including the high-tech consumer Bird Bike, as well as given rise to creative campaigns such as "Give gas the Bird" to help make the transition to micro-electric vehicles even easier.
To learn more about Bird Bike and scooter launches as well as other initiatives happening every week around the world, subscribe to the Bird Cities Blog.