Vision Zero. Climate action. Traffic reduction. Infrastructure development. Small business support.
Did you know that micromobility programs like Bird can help cities achieve all of these important goals and more? It's true. Here's a quick look at how these benefits are already being experienced in cities around the world, and how your city can be next.

Vision Zero and Infrastructure

Take Vision Zero, for example. Around the world, Bird partners with local city governments to responsibly share data that is used to understand the mobility habits of riders and properly plan for infrastructure enhancements. Tel Aviv's use of Bird data to help double their existing scooter and bike lanes by 2025 is a great example of this partnership in action.
But we don't stop there. Bird technologies such as Beginner Mode, focused on riders, and Community Safety Zones, focused on pedestrians, make scooter riding safer, more comfortable and more enjoyable for every member of the community. We're also a proud official supporter of the Vision Zero Network, helping eliminate traffic deaths and making transportation safer and more equitable for everyone.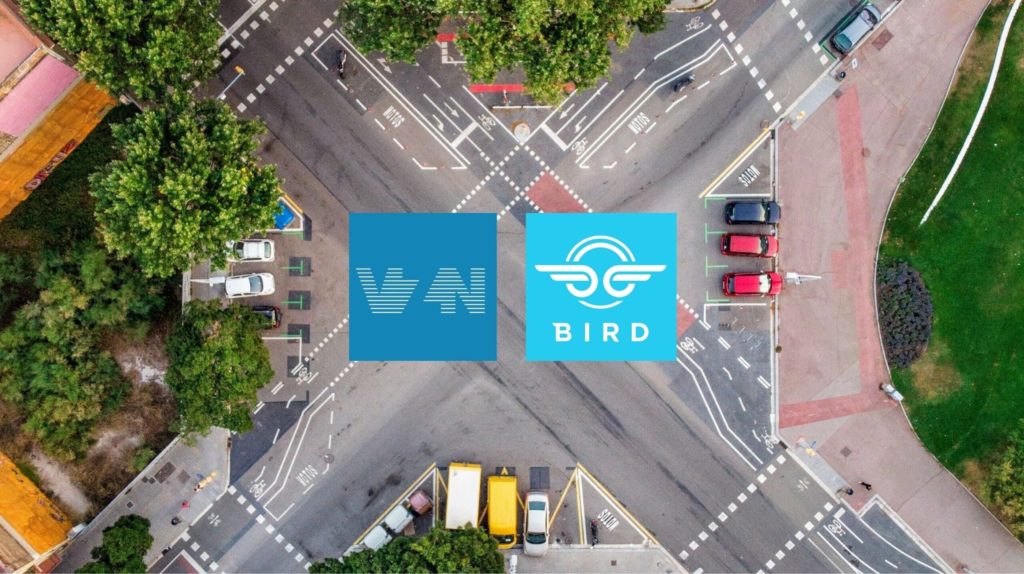 "Ensuring safe mobility includes working with community partners to implement common sense, data-driven reforms like decreasing automobile speeds, investing in safe roadway designs and other changes that prioritize the well-being of vulnerable road users," said Jenn Fox, program director at Vision Zero Network. "We're grateful to companies like Bird for supporting these efforts. When organizations come together to increase mobility safety, the positive ripple effects can be significant."

Climate Action and Traffic
 
Did you know that, between January 1 and April 22, 2022, Bird riders globally helped prevent an estimated 1,100 metric tons of CO2 from being emitted in cities around the world?
We calculate these numbers using global survey responses from our riders that give us a clear understanding of how many Bird bike and scooter trips, on average, replace trips that would have otherwise been made by personal car or ridehail vehicles. This is known as mode shift, and besides eliminating cars from the street (another benefit to Vision Zero initiatives) it also removes CO2 and other particulate emissions from the air we breathe every day.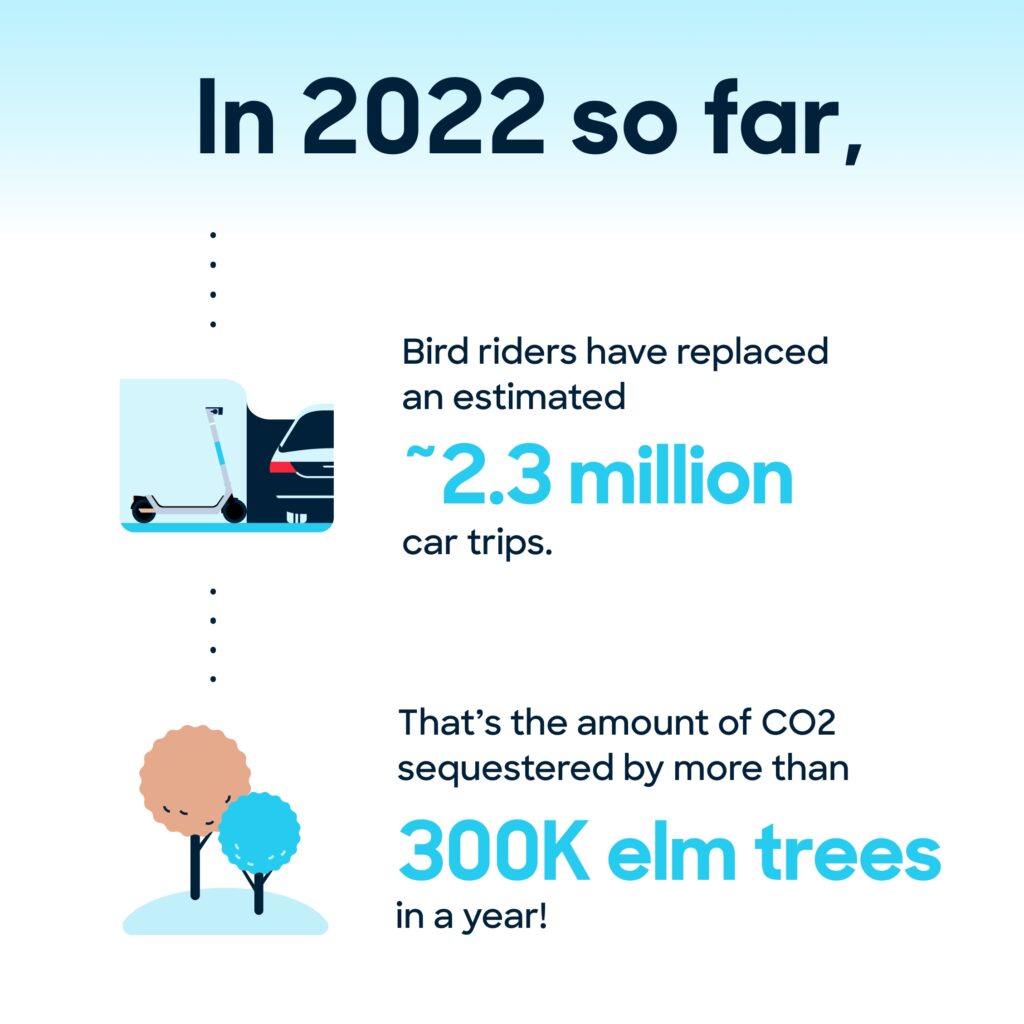 Mode shift rates vary depending on things like car ownership, availability of public transportation and more, however they can reach as high as 35%-40%. With more than 100 million micromobility trips occurring around the world every year, those numbers can quickly add up. Since launching in Los Angeles in 2017, Bird riders alone have helped to remove an estimated 5.5 million car trips from the road.

Local Business Support

How much incremental spending do micromobility vehicles like shared scooters bring to cities?
According to an in-depth study published by the Emory University's Goizueta School of Business, the number is significant. Authors Daniel McCarthy, Assistant Professor of Marketing at Emory University, as well as Emory University PhD student Kyeongbin Kim, demonstrated that, when compared to similar sized US cities without shared scooters, those with scooters saw an increase in individual incremental spending equivalent to $2,200 per scooter.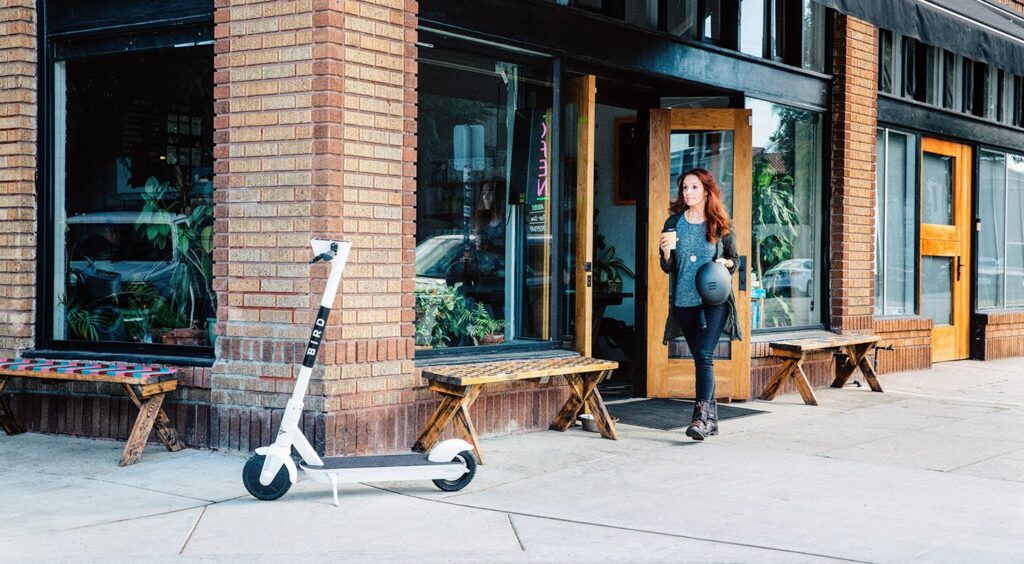 Even using more conservative estimates to account for smaller markets, Bird riders contributed an estimated $100 million in incremental spending to local economies, predominantly across local food and beverage companies, in 2021.
Beyond this, Bird micromobility has been demonstrated to support local economies in a variety of other ways, from innovative partnerships with companies like Yelp to support small businesses to the industry's first and only bikeshare integration program to support local micromobility operators. 
 
Bring Bird to Your City
 
Interested in bringing all the benefits of Bird's micromobility solution to your city? You can check out our dedicated Cities page for more information or drop us a line at city@bird.co.