Electric scooters and bikes offer a low-carbon alternative to personal cars and ride hailing services for short distance trips. Importantly, however, they're not without some greenhouse gas (GHG) emissions.
Manufacturing, charging and rebalancing vehicles all have an impact on our carbon footprint that we're committed to accurately measuring and consistently reducing. That's why, for the second year in a row, Bird is teaming up with our partners at 3Degrees and EcoCart to offset all greenhouse gas emissions associated with our shared micromobility service in 2021.
This includes all emissions from charging and transporting our vehicles, as well as our best estimates for those linked to manufacturing, shipping and recycling.
Here's how we did it.

Calculating Our 2021 GHG Emissions

To accurately estimate our emissions, Bird first studied the total environmental impact of our different vehicle models, including the lifecycle analysis we performed alongside CEA Consulting and an independent consultant from the National Renewable Energy Laboratory.
For accuracy, we compared these estimates against those of a similar independent exercise conducted by the International Transport Forum in 2020.
Once we had the accurate per mile (or per kilometer) emissions associated with each vehicle type, we multiplied this number by the number of miles ridden on each model in 2021 to arrive at our annual emissions total. A similar exercise was undertaken to determine the energy used to charge our vehicles, multiplying total charge cycles by the amount of kilowatt hours needed to fully charge each vehicle type.

Offsetting Our 2021 GHG Emissions

To help neutralize our GHG emissions, Bird is purchasing carbon offsets and renewable energy credits equal to the total amount of estimated emissions associated with our shared bikes and scooters in 2021.
The projects we've chosen to support, spread between Europe and North America, have been verified through Verra and the CSA Group, two of the most trusted authorities on such initiatives.
In Europe, we're investing in Bulgaria's Saint Nicola Wind Farm with the purchase of 250 energy credits. The project consists of 52 turbines covering an area of some 60 km² and, as of 2020, producing 344,545 MWh of renewable electricity per year.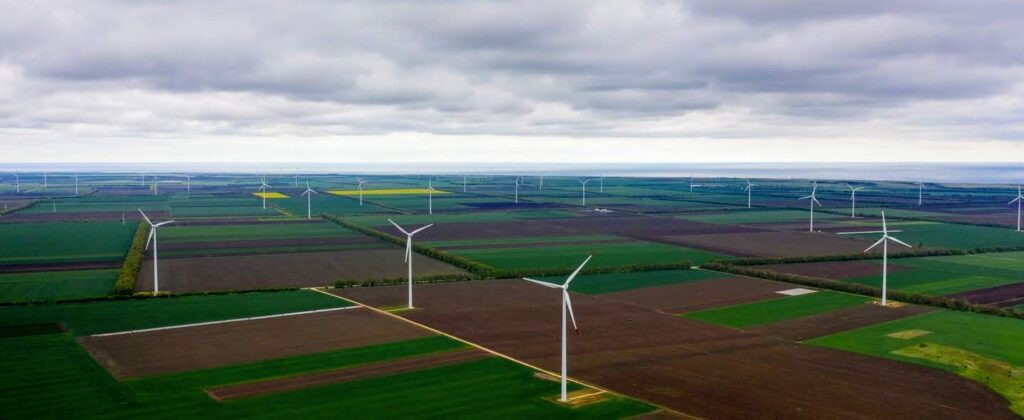 Photo of Saint Nicola Wind Farm: AES Bulgaria

In the US and Canada, we're purchasing carbon offsets from South Carolina's Spartanburg Landfill Gas and Niagara Gas Capture projects, respectively. Both projects recover methane gas from local landfills and convert it into a usable fuel source.

Our 2022 Impact

Beyond our efforts as a company to negate our carbon footprint, Bird riders are helping lower CO2 and other emissions every day simply by the choices they make.
Survey data demonstrate that shared scooters and bikes are helping promote modeshift behaviors around the world. Depending on the city, the rate at which riders are swapping car rides for bike and scooter rides can reach as high as 35%-40%, and all of that modeshift quickly adds up.
In a city like Tel Aviv, for example, Bird riders have replaced approximately 1.5 million unnecessary car trips with micromobility rides according to our best estimates based on survey data.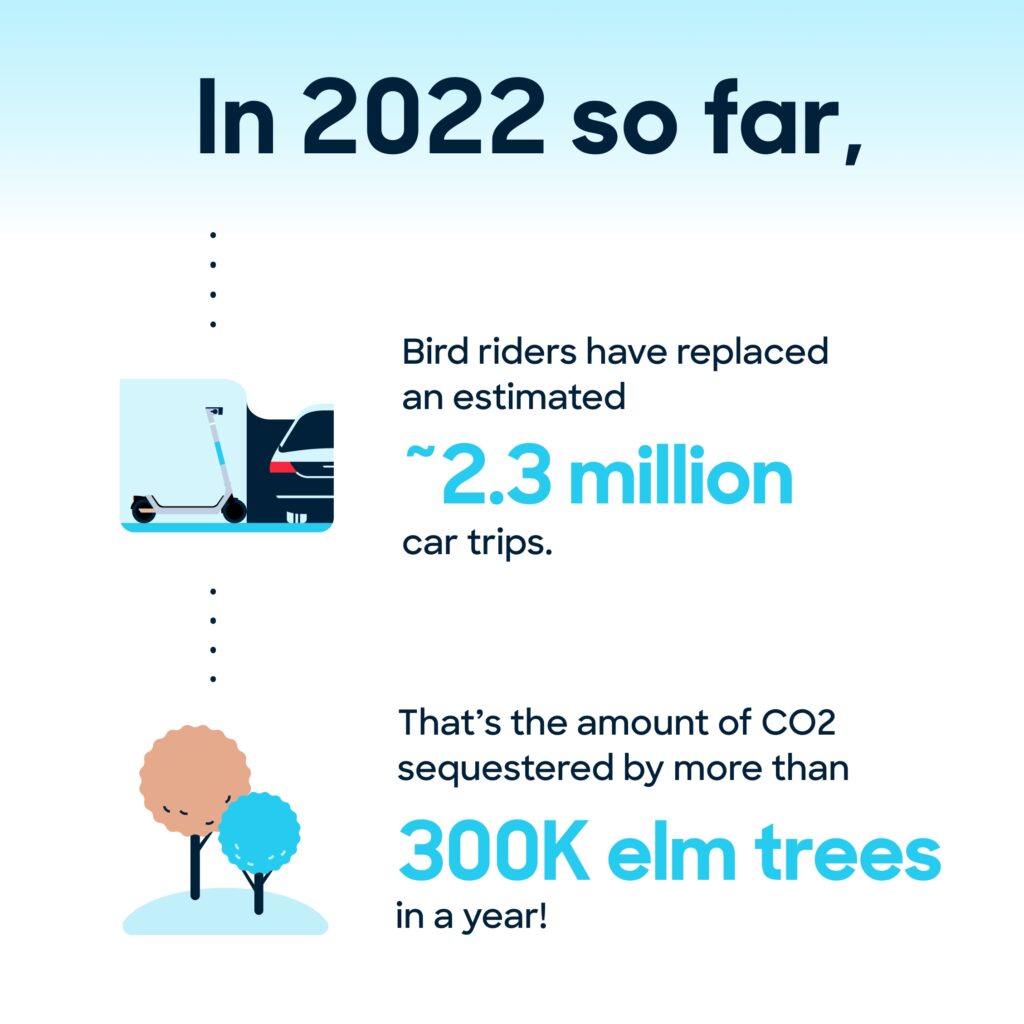 In Los Angeles and San Diego, those numbers are even more significant. Combined, these two early adopters of micromobility in the US have seen an estimated 9.5 million car trips replaced by Bird scooters. For comparison, it would take more than 1,100,000 six-year-old elm trees a full year* to sequester the same amount of CO2 resulting from those displaced car trips.
In the first 3.5 months of 2022 alone, our estimations indicate that Bird riders in North America, Europe and the Middle East have taken nearly 2.3 million individual car trips off the road.
We know there's much more to do, and we're committed to sharing our progress with you along the way. To learn more about Bird's commitment to the environment, visit our Sustainability page or subscribe to the Bird Cities Blog for updates on how we're tracking towards our environmental commitments.

*Estimations made using EPA guidance found here.