It takes more than 650,000 gallons, or around 2.5 million liters, of water to fill up an Olympic-sized swimming pool.
Double that and you start to get a sense of how much gasoline was not burned in cars in 2021 thanks to the modeshift behaviors of Bird riders all around the world.
In a year when the UN's IPCC report on climate change issued an unambiguous "code red" warning for humanity, these figures are encouraging. The estimated 1,125,000 gallons of unused gasoline saved by Bird riders equates to as much as 10,000 metric tons of carbon dioxide prevented from entering the atmosphere, calculated with reference to guidance from the EPA. It's comparable to the amount of CO2 absorbed by nearly 460,000 mature trees in one year, using the methodology published by the Arbor Day Foundation.
In other words, riding Birds in 2021 had the same impact on carbon sequestration as one year of protecting 2.5 square miles, or 6.5 square kms, of the Amazon rainforest. That's not enough, but it's certainly a step in the right direction.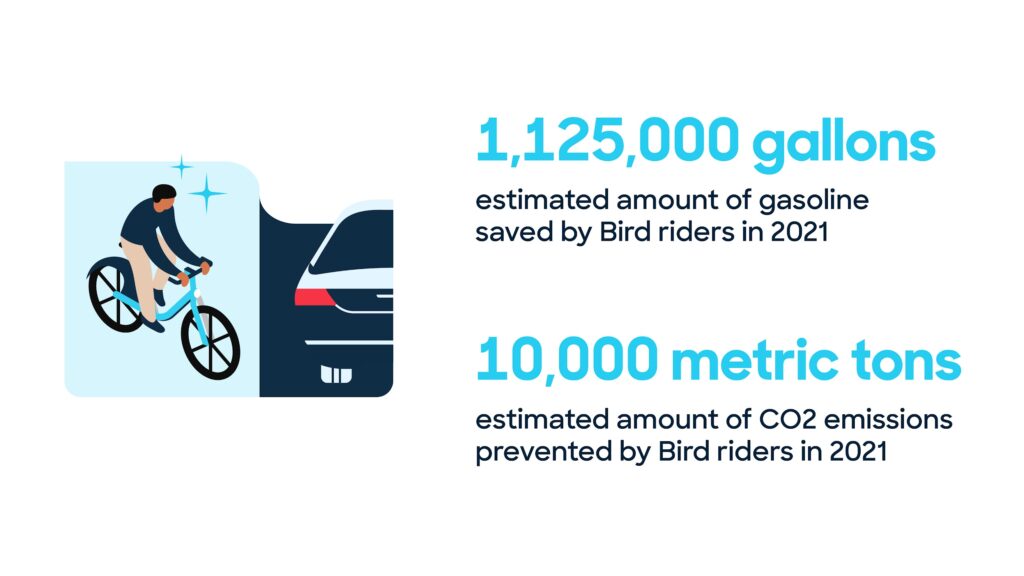 It's important to note that calculating the environmental impact of shared e-scooters and e-bikes isn't an exact science. It's a complicated process that should, if done correctly, factor in everything from research, development and detailed lifespan assumptions to recycling efforts.
We take our responsibility to accurate reporting seriously and have written an article about how to perform these estimates, including the sensitivities around them. You can read it here if you're interested.
Bird's Economic Impact in 2021

In addition to their impact on the environment, Bird micro-electric vehicles had an economic role to play in 2021 as well as cities all over the world attempted to reopen and adjust to a COVID-world.
We have a clearer idea of what that economic impact was thanks to an in-depth study from Emory University's Goizueta School of Business published in 2021. According to the findings of the six-month study, each deployed scooter in a city spurs a given amount of additional incremental spending relative to cities of comparable size that do not offer this type of micromobility resource.
Conservative estimates show that Bird scooters added more than $100 million in incremental spending, predominantly across local food and beverage companies, across our partner cities in 2021.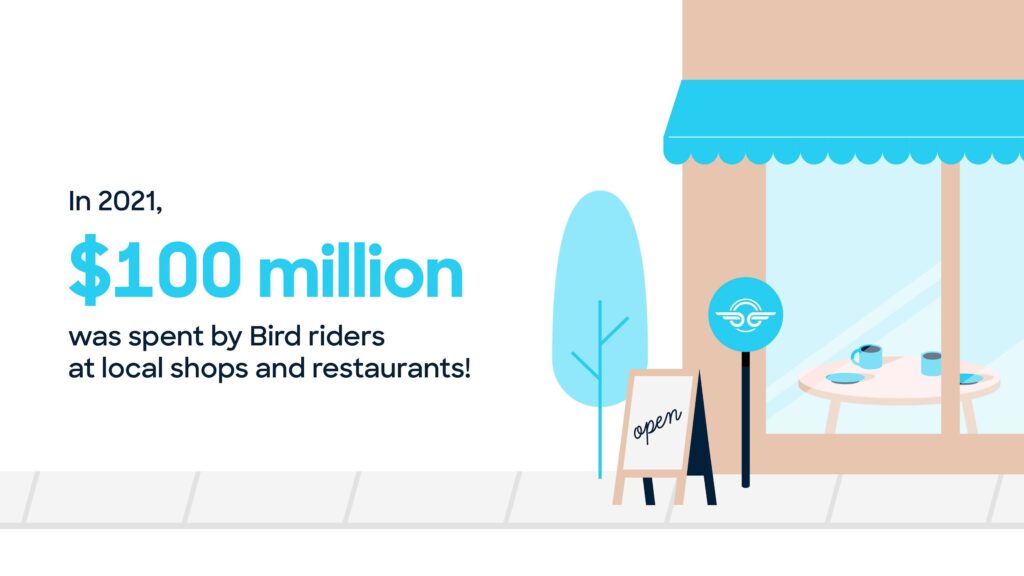 "All the data points to the same conclusion: e-scooters drive consumer spending and likely provide a significant financial boon to local economies," said Assistant Professor of Marketing Daniel McCarthy, who co-authored the study along with Emory University PhD student Kyeongbin Kim. "Obviously cities have many factors to consider when choosing to partner with Bird or others in the micromobility industry, but the economic benefit to local businesses should not be understated."
Other Notable 2021 Milestones and Achievements

Beyond these environmental and economic figures, 2021 was a milestone year for Bird.
We were the first operator to serve more than 350 cities around the world, and on November 5th we became the first micromobility company to list publicly on the New York Stock Exchange (NYSE: BRDS). This is important not only for industry stability and long-term growth but also because it gives us access to the public market to advance our mission and take meaningful action to protect our planet. 
Other notable 2021 data and achievements include:
The 1K Club. Around the world, riders are relying on Bird for thousands of trips around their home cities. Our top 5 global riders, hailing from Austin, Lisbon, Rome, San Jose and Madrid respectively, have combined to take more than 20,000 trips in 2021.
Going the distance. The

launch of Bird Three

in 2021, with its increased battery capacity, has enabled longer Bird rides than ever before. On September 7, a rider in Munich, Germany took their Bird Three to the limit, covering 28.5 miles (45.6 km) on a ride that lasted 2 hours and 48 minutes. This was just over one tenth of a mile longer than a Bird Three rider in Tampa, Florida, who rode 28.4 miles on October 10 during a trip that lasted 2 hours and 39 minutes.
Extending the trend. The average Bird ride length has reached a new record high in 2021. It's now 58% longer worldwide when compared to 2019 as riders

continue the post-COVID trend

of leveraging micromobility for longer and more varied trips.
Bridging the gender gap. We're keeping our eye on an encouraging trend that indicates an increase in women's scooter ridership, particularly in the southern United States. In Memphis, 41% of Bird riders in 2021 identified as female, while in Atlanta, that number is

nearly 46%

. The trend is even present in smaller cities such as Yuma, Arizona, where 42% of Bird riders in 2021 identified as female.
To stay informed throughout the year on the progress we're making towards achieving our goal of providing eco-friendly transportation to everyone, subscribe to the Bird Cities Blog.