It's official.
Bird and the Madrid Municipal Transport Company (EMT) have just launched Europe's first joint bikeshare integration, with shared Bird Bikes now integrated into the Spanish capital's Mobility 360 transit app and Madrid's BiciMAD public bikeshare now accessible through the Bird app.
The joint integration comes on the heels of the city's historic €1 billion investment in EMT announced by Mayor José Luis Martínez-Almeida in January. By offering greater visibility and access to both BiciMAD and Bird bikes, the integration will help EMT achieve the first of its four key corporate objectives: Be a green and decarbonised company with a sustainable energy model.
"The Madrid Municipal Transport Company is taking a leading role in bringing more sustainable mobility solutions to residents and visitors, and Bird is committed to doing everything we can to support them," said Brian Buccella, Bird's Senior Vice President of Policy. "This innovative joint bikeshare integration is a perfect example of how cities and transportation providers can work hand in hand to improve mobility for everyone."

An Innovative Joint Bikeshare Integration in Madrid

BiciMAD is the most recent European capital bikeshare to integrate with Bird as part of our exclusive Smart Bikeshare Program, launching just one month after our integration with Lisbon's Gira bikeshare.
To access BiciMAD bikes, riders can simply tap the clearly marked bike icons on the Bird service map. Each icon indicates a BiciMAD station and the number of available bikes at each. Once tapped, riders will immediately connect to BiciMAD where rentals can be started in a matter of moments. 
What makes this integration so innovative, however, is the fact that shared Bird Bikes are now also visible and accessible in the Madrid Mobility 360 app alongside BiciMAD and BiciMAD Go vehicles. The location and battery level of Bird Bikes are clearly visible, as well as a feature that allows riders to calculate the route, time and estimated cost of the journey.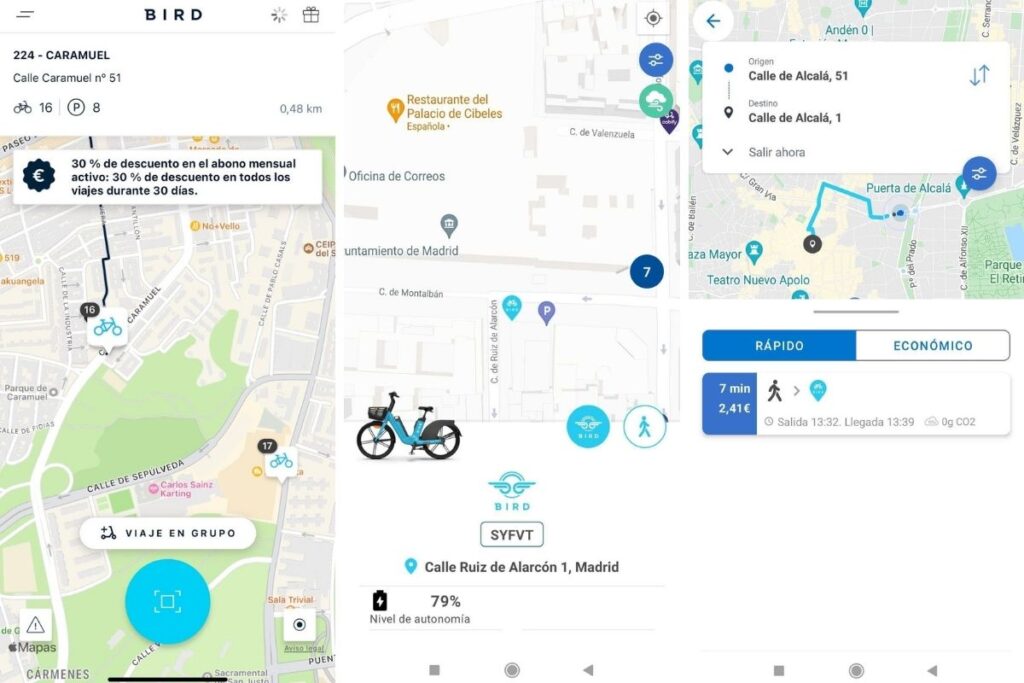 The exciting joint integration will make it significantly easier for Madrid's millions of residents and annual visitors to explore the Spanish capital by bike. Madrid also joins cities like Rome and Bordeaux offering Bird's full multimodal fleet of eco-friendly scooters, bikes and integrated alternatives such as public bikes and e-mopeds.
To learn more about how Bird's unique bikeshare integration program is serving cities around the world, subscribe to the Bird Cities Blog.