On November 3, Bird was proud to offer free rides to election day voters in conjunction with the North American Bikeshare Association's (NABSA) Roll to the Polls campaign. The goal was to help eliminate the kinds of transportation barriers that prevented more than 4.5 million Americans from voting in 2016.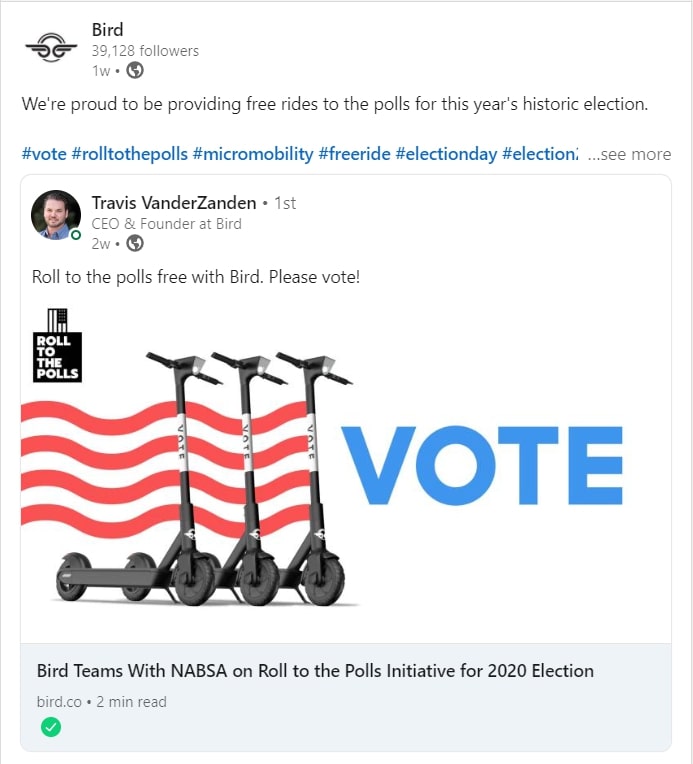 In response, riders throughout the country used our shared e-scooters to help exercise their right to vote. From big cities like Chicago and Washington, D.C. to college campuses like the University of Cincinnati and Lincoln's University of Nebraska, ridership was up as much as 390% as voters turned out in record numbers to make their voices heard across the US.
"The right to vote is the cornerstone of American democracy, and the University of Cincinnati Student Government was proud to work with Bird to ensure that every student and faculty member had the opportunity to exercise that right freely," said Teja Bollimunta, External Holdover Senator on UC's Student Government.
Among communities most engaged with our Roll to the Polls program, we saw some very compelling ride increase percentages compared to previous Tuesday averages:
+ 390% more rides in Lincoln, NE
+ 380% more rides in Kansas City, MO
+ 260% more rides in Cincinnati, OH
+ 200% more rides in St. Louis, MO
+ 60% more rides in Chicago, IL

These numbers highlight the critical role that e-scooters can play in ensuring that all voters have the opportunity to participate in their civic duties.
For more e-scooter data and information about Bird community initiatives taking place around the world, subscribe to the Bird Cities Blog.