On January 12, Bird Founder and CEO Travis VanderZanden sat down with renowned analyst Horace Dediu to kick off Micromobility World 2022.
The conversation between these two industry visionaries, dubbed The Macro of Micromobility, explored a variety of subjects from the impact of COVID on urban transportation to future form factors that will carry the industry forward.
Here are some of the key takeaways from the keynote session.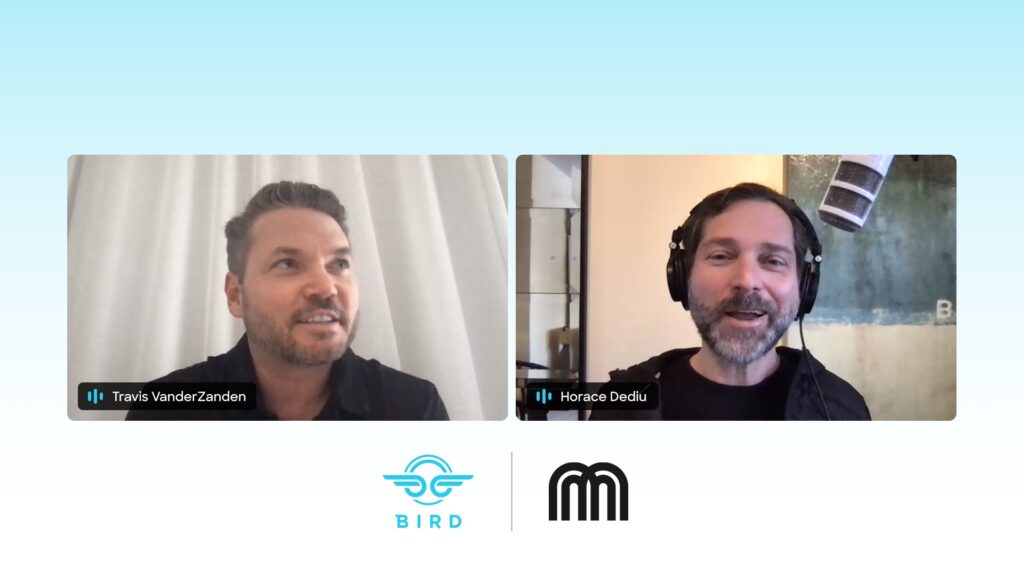 1) Micromobility Hasn't Had its iPhone Moment…Yet

While great strides have been made in improving shared micro-electric vehicles over the past four years, from more durable, high-tech designs to a growing number of multimodal offerings, the industry has not yet reached its zenith.
"I don't think we've hit the iPhone moment yet in micromobility," said VanderZanden, drawing a comparison between current vehicle offerings and early cell phone models like the Motorola Razr. Bird's CEO noted that shared e-scooters had proven an excellent product/market fit for cities of all sizes, with remarkable rider adoption that has led to community benefits like increased consumer spending at local businesses.
For VanderZanden, however, remaining "form factor agnostic" is important. Bird is investing in research and development with a view to delivering the next industry breakthrough to help get more people out of gas-powered cars.

2) Parking Infrastructure Is Just as Important as Bike Lanes

Post COVID, many cities around the world invested in new bike lanes to encourage naturally socially distanced transportation like cycling and scooter riding. This is a significant step in the right direction that has highlighted the need for another important piece of micromobility infrastructure: parking.
"More bike lanes are a great start," said VanderZanden. "I think now on the infrastructure side we really need to work with cities to get more dedicated parking." Bird's CEO advocated for one micromobility parking space on every downtown city core block, a level of density that our data indicate is optimal for promoting both micro-EV use and organized parking.

3) Beware of Outdated Micromobility Data

When asked by Dediu about the importance of Bird becoming the first micromobility company to list on the New York Stock Exchange, VanderZanden's response focused squarely on how it validated micromobility as a whole.
"There are a lot of misconceptions about the industry based on outdated data," Bird's CEO said. "For our first fleet in 2017, I was ordering whatever was available on Alibaba. Going public was a great branding moment to show the incredible advancement of our vehicles and highlight important new data. The economics are positive, as we're showing along with other operators."
In 2021 alone, the safety and sustainability innovations to Bird vehicles including the all new Bird Three helped prevent an estimated 10K tons of CO2 emissions.

Watch the Full Keynote Session

You can watch the full Micromobility World keynote session with Travis VanderZanden and Horace Dediu below. To stay up to date on important industry news and events happening throughout the year, subscribe to the Bird Cities blog.