Bird is building towards a more mobile and sustainable Europe.
That's the message we're bringing to Eurobike 2021 in Germany this week as representatives from the Bird team demo our new retail electric Bird Bike and shared Bird Three electric scooter.
Now present in over 300 cities worldwide, Bird has become a European leader in micro-electric mobility. We're putting our unique combination of custom-designed electric vehicles for shared and personal use, along with our industry leading experience, to work helping cities and riders across Europe reach their carbon reduction goals.
Bird Bike in Europe

The all-new Bird Bike marks an important step towards our goal of increasing access to eco-friendly transportation, as it allows us to help meet a surging demand for retail e-bikes in Europe since the start of the pandemic.
Specifically designed and engineered for the European market, the Bird Bike is a high precision pedelec equipped with a Bafang rear hub motor and 346Wh removable battery. Its sleek, aluminum alloy design give the two models (A-frame step over and V-frame step thru) a look that's both approachable and cutting-edge, perfect for casual urban and more advanced riders.
There are some differences between the US and European versions. In line with local regulations, riders in the EU and UK will have access to 250W of continuous rated power combined with a Shimano Tourney 7-speed shifting system.
Other key features of the Bird Bike in Europe include:
Max electric assist speed of 25 km/h
Safety certified, including IP65+ water resistance
Easy-to-Read LCD display
Kenda puncture resistant tyres
Integrated LED lights for 180° Visibility
Fully adjustable seat height
Removable, rechargeable battery
Front and Rear Tektro Disc Brakes
Bluetooth with Bird App connectivity
If interested in meeting with Bird and experiencing the excitement of the European Bird Bike at Eurobike, please email sales@bird.co or visit us directly at Hall B2 Booth 207.
Bird Three: Changing Shared Micromobility in Europe

In addition to the Bird Bike, the newest addition to our shared scooter fleet will also be making an appearance at Eurobike 2021.
Bird Three is built to be the world's most eco-conscious scooter, with an IP68-rated integrated structural battery and capacity of up to 1 kWh. Combined with its unrivaled durability and real-time diagnostics, each vehicle is designed specifically to run longer on fewer charges, serving more riders and significantly decreasing its overall lifetime carbon footprint.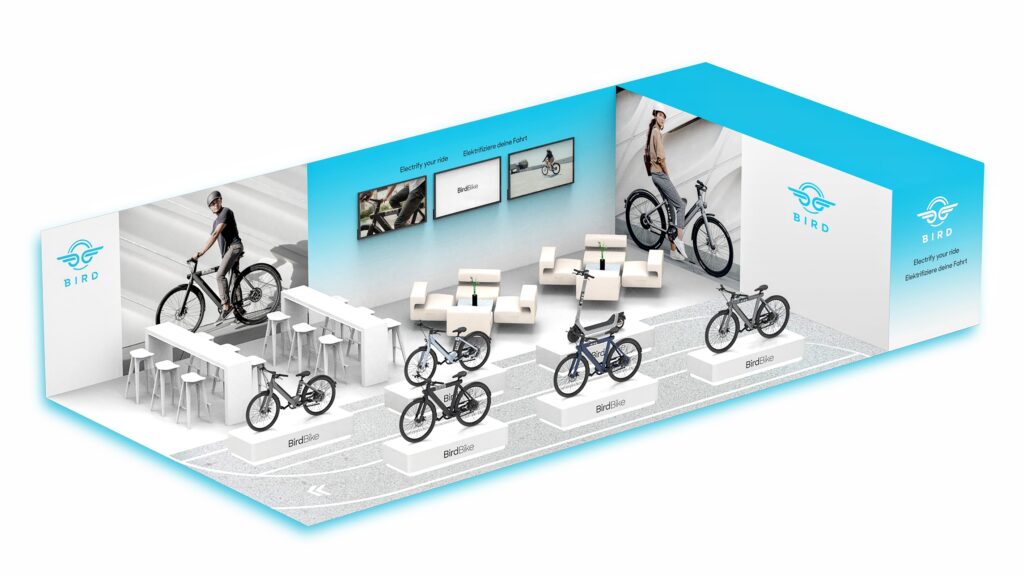 Additionally, Bird Three is equipped with state of the art safety features that appeal to cities and riders alike. These include things like dual independent brakes, a dual-sensor throttle for absolute accuracy in speed control, a Beginner Mode option for first-time riders and the industry's only Autonomous Emergency Braking system.
Bird Threes have already started launching in cities throughout Europe, from Lisbon to Berlin, and the early impact is remarkable. We're excited to expand our network of Bird Threes to more cities in Europe throughout the coming months.
A Commitment to Eco-Friendly Mobility in Europe

Beyond the Bird Bike and Bird Three that will be on display at Eurobike 2021, Bird is also focused on expanding our smart bikeshare program in Europe.
Bird's first shared e-bikes will begin rolling out in cities across the continent in the coming weeks, as will our industry-first at-scale integrations with local e-bike and e-moped providers. These new vehicles, programs and initiatives are all part of our unwavering commitment to and investment in Europe first discussed in March of this year.
For more information about how Bird is supporting sustainable mobility around the world, subscribe to the Bird Cities Blog.