At Bird, providing eco-friendly transportation for everyone means increasing the availability of on-demand accessible mobility.
That's why we're proud to be expanding our collaboration with Scootaround, a global leader in personal transportation solutions. In addition to our ongoing pilot in The Bronx, we now offer our unique, on-demand accessible mobility program in San Diego and San Francisco as well.
The program allows persons with disabilities to find, reserve and pay for a selection of accessible vehicles using a custom Scootaround interface directly in the Bird app. Riders benefit from exclusive pricing discounts available only through Bird, including free rentals up to three days in some areas. They also have access to high-quality accessible vehicles such as the award-winning WHILL Model Ci2.
"Bird's commitment to improving sustainable mobility access for everyone means partnering with industry experts whose mission parallels our own," said Rebecca Hahn, Chief Corporate Social Responsibility Officer at Bird. "Together with Scootaround, we're able to bring a trusted, on-demand, personal transportation service to those with disabilities. This is incredibly important to our team, and we believe it's just as valuable to the communities we serve."
To begin a reservation, riders can simply tap on the clearly marked button at the bottom of the Bird app. The reservation process allows those with disabilities to select their desired accessible vehicle type, rental length up to three days and a convenient pick-up and drop-off location.
A toll-free number is also available to help provide immediate answers to questions about the rental process. On the day of delivery, riders will receive a full, in-person tutorial to help them feel comfortable using, charging and storing their new accessible vehicle throughout the duration of the rental.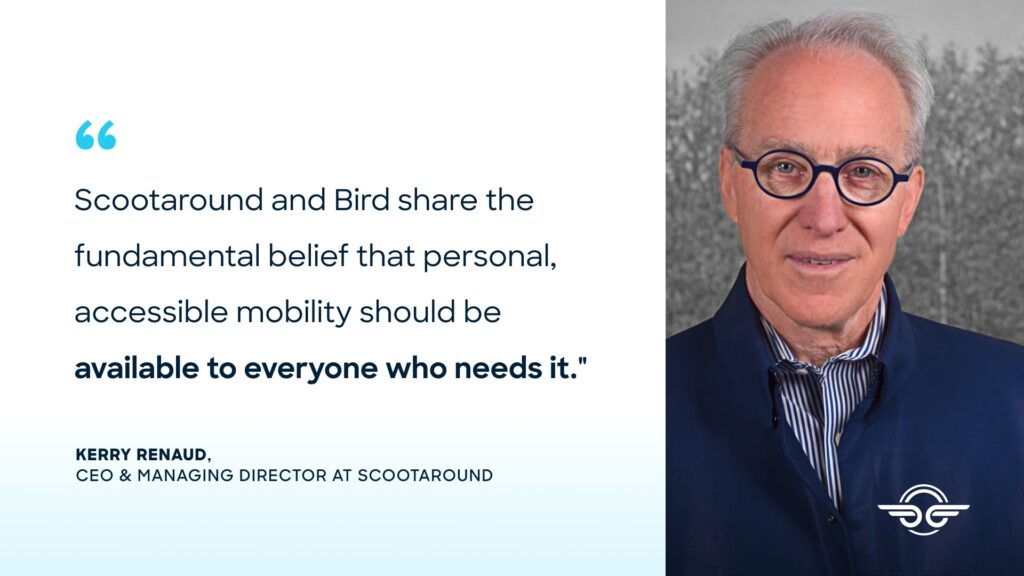 A Commitment to Improve

The expansion of our on-demand accessible mobility program to San Diego and San Francisco is one of many initiatives we're prioritizing as a company to better listen to, understand and meet the needs of the disability community.
Together with Easterseals, the nation's largest disability services and advocacy organization, we're providing employees with valuable insights and education designed to ensure all Bird team members have the tools they need to be more positive and proactive community partners.
"Bird has a unique opportunity to provide accessible transportation options to millions of individuals with disabilities around the world." said Nancy Weintraub, Chief Advancement Officer of Easterseals Southern California. "Education and willingness to listen and learn will be critical to turning that opportunity into a reality. Easterseals appreciates the chance to work with Bird to help move the micromobility industry closer to its goal of serving the transportation needs of all members of the disability community."
Moving forward, Bird will continue to identify ways that we can implement these learnings in all aspects of our operations. This includes everything from our vehicle offerings, operations and partnerships to our community education campaigns, accessible app and website design and even the ALT-text on our social media posts.
To stay up to date about what we're doing to make good on our commitment to improving our service for those with disabilities, subscribe to the Bird Cities Blog.