Bird e-scooters have launched in Helsinki, the most recent European capital city to welcome micro-electric mobility.
Starting today, hundreds of our newest, most eco-friendly Bird Three scooters will be available to transport riders across Helsinki, equipped with high-tech safety features including a state of the art battery management system, the industry's longest, most stable footboard and its only IP68-rated waterproof battery.
We'll carefully add additional scooters to our fleet month after month as we work collaboratively with the city to focus on proper parking and rider education. To help riders get started, however, here's a handy guide:

How to Safely Ride a Bird Scooter in Helsinki

1. Download the app
The first step in riding a Bird is downloading the Bird app. It takes a few seconds using this link. You'll be asked to create an account and add a payment method. 
2. Find a Bird
To find an available Bird nearby, simply open the app. You will immediately be taken to our service map of Helsinki that displays nearby Bird Three scooters, riding zones and more.
*Pro tip: Tap on any Bird icon to see pricing information and to access the vehicle reserve option.
3. Unlock your vehicle
To unlock a Bird scooter, simply tap on the large button centrally located on the service map. This will open your phone's camera and allow you to scan the QR code easily located at the top of the vehicle. You can also manually enter the alpha-numeric code located just below the QR code.
*Pro tip: It's possible to unlock multiple Bird's from one account using the "Group Ride" button on the service map. All riders must verify that they are legally authorized to ride.
4. Ride safely
To get riding, start by kicking forward with your foot to gain momentum then use the thumb accelerator to control your speed. Apply pressure to the handbrake to decelerate and come to a stop.
Like cyclists, riders are required to abide by all local traffic laws. Stick to bike lanes and bike paths where possible, and check the local regulations in Helsinki before starting your ride. You're encouraged to check out Bird's in-depth safety page for more information. 
*Pro tip: Our Bird Three scooters in Helsinki are equipped with "Beginner Mode" for softer acceleration. Learn more here.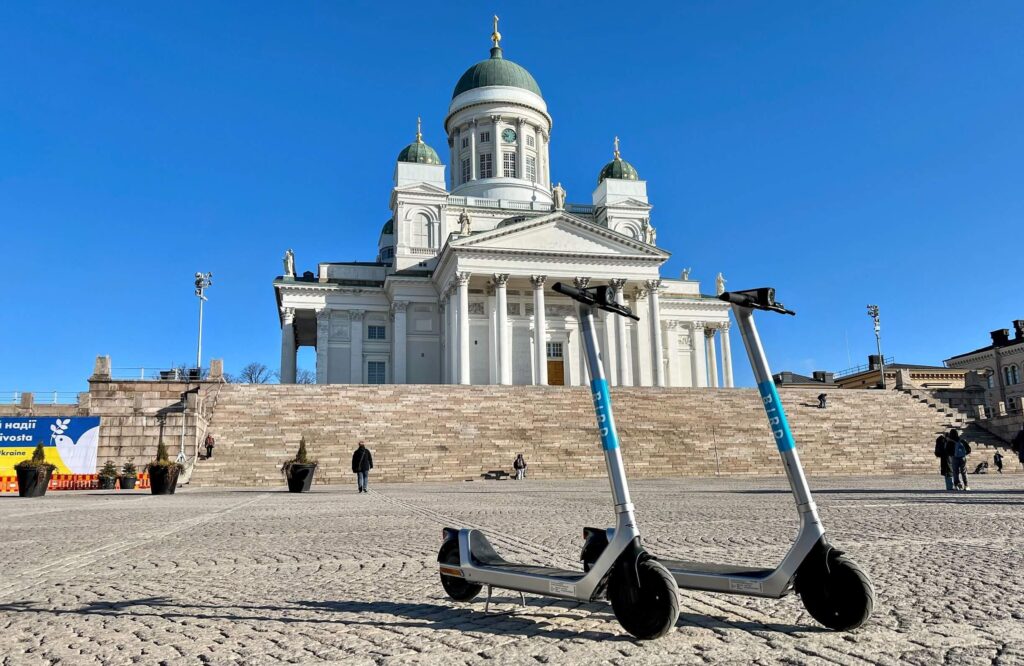 How to Safely Park a Bird Scooter in Helsinki

1. Where to park
When you're ready to end your ride, the Bird app will indicate approved parking areas in Helsinki.
In general, always ensure that your Bird is not parked in the center of the sidewalk as this can cause serious disruptions for pedestrians and disabled persons. Additionally, please never block doorways, stairways, access ramps or transit stops.
*Pro tip: Look for preferred parking areas across Helsinki marked with a "P" in the Bird app. If you park your Bird here, you'll receive an automatic discount on your ride! No parking/no riding zones will be clearly marked in red.
2. End your ride
Once your Bird is properly parked, simply tap the "End Ride" button in your Bird app. You will be prompted to take a photo of your vehicle in-app to ensure that it has been parked correctly. Once your photo has been submitted, you're good to go!
*Pro tip: Consistently parking your scooter incorrectly may result in a fine or account suspension.