A lack of transportation should never prevent someone from voting.
This simple belief is behind Bird's leading efforts to support voter turnout in Europe this month. Last Sunday, September 26, thousands of Bird riders across ten cities in Portugal including Lisbon, Porto and Braga took advantage of our initiative offering free scooter rides to and from polling stations.
The campaign to ease access to polling places comes at a time when concerns about voter participation are growing in Portugal. According to the country's daily national newspaper Público, abstention broke a record in January "with more than 60% of voters not going to the polls."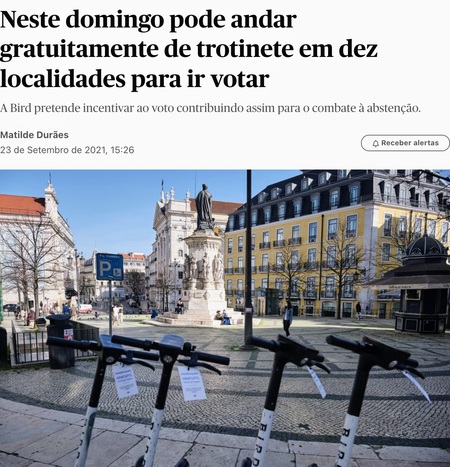 To continue to help cities encourage voter turnout, our local team in Italy is preparing a similar initiative in four Italian cities this upcoming October 3 and 4, 2021. Riders in Rome, Milan, Turin and Rimini will have access to a coupon code good for two free rides to and from their local polling places.
We'll also be continuing our partnership with the Federazione Italiana Ambiente e Bicicletta, or FIAB, Italy's leading organization dedicated to promoting the use of bicycles and micromobility as a means of daily transportation—including on election day.
Bird's voting access campaigns in Europe come on the heels of our successful partnership with NABSA during 2020's Roll to the Poll initiative in the US. Bird ridership skyrocketed nearly 400% in some cities as voters turned out in record numbers to make their voices heard across the country.
To learn more about how Bird is helping to encourage civic engagement and support important local initiatives alongside more than 300 city partners around the world, subscribe to the Bird Cities Blog.