Bird scooters have officially launched in Indio, California.
The exclusive pilot means that our fleet of industry-leading Bird Three scooters will help serve not only the sustainable mobility needs of the city's nearly 100,000 residents, but of the more than one million visitors who flock to the City of Festivals every year for events such as Coachella and Stagecoach, both taking place this month.
"We are excited to welcome Bird to the City of Indio," said Mayor Waymond Fermon. "Whether going to the Farmers Market downtown, seeing some of the city's new sculptures, commuting to work or school, residents and visitors now have another fun, eco-friendly way to get around."
Riders will be able to travel throughout Indio as well as the neighboring city of Coachella, helping reduce reliance on personal cars for short distance transportation while also potentially driving significant consumer spending at local businesses.
Of course, like any new system of transportation, it helps to know the rules before you ride. To make this easier, we've put together a quick guide to our exclusive scooter pilot in Indio below.

How to Safely Ride a Bird Scooter in Indio

1. Download the app
The first step in riding a Bird is downloading the Bird app. It takes a few seconds using this link. You'll be asked to create an account and add a payment method.
2. Find a Bird
To find an available Bird nearby, simply open the app. You will immediately be taken to our service map of Indio that displays nearby Bird Three scooters, riding zones and more.
*Pro tip: Tap on any Bird icon to see pricing information and to access the vehicle reserve option.
3. Unlock your vehicle
To unlock a Bird scooter, simply tap on the large button centrally located on the service map. This will open your phone's camera and allow you to scan the QR code easily located at the top of the vehicle. You can also manually enter the alpha-numeric code located just below the QR code.
*Pro tip: It's possible to unlock multiple Bird's from one account using the "Group Ride" button on the service map. All riders must verify that they are legally authorized to ride.
4. Ride safely
To get riding, start by kicking forward with your foot to gain momentum then use the thumb accelerator to control your speed. Apply pressure to the handbrake to decelerate and come to a stop.
Like cyclists, riders are required to abide by all local traffic laws. Stick to bike lanes and bike paths where possible, and check the local regulations in Indio before starting your ride. You're encouraged to check out Bird's in-depth safety page for more information.
*Pro tip: Our Bird Three scooters in Indio are equipped with "Beginner Mode" for softer acceleration. Learn more here.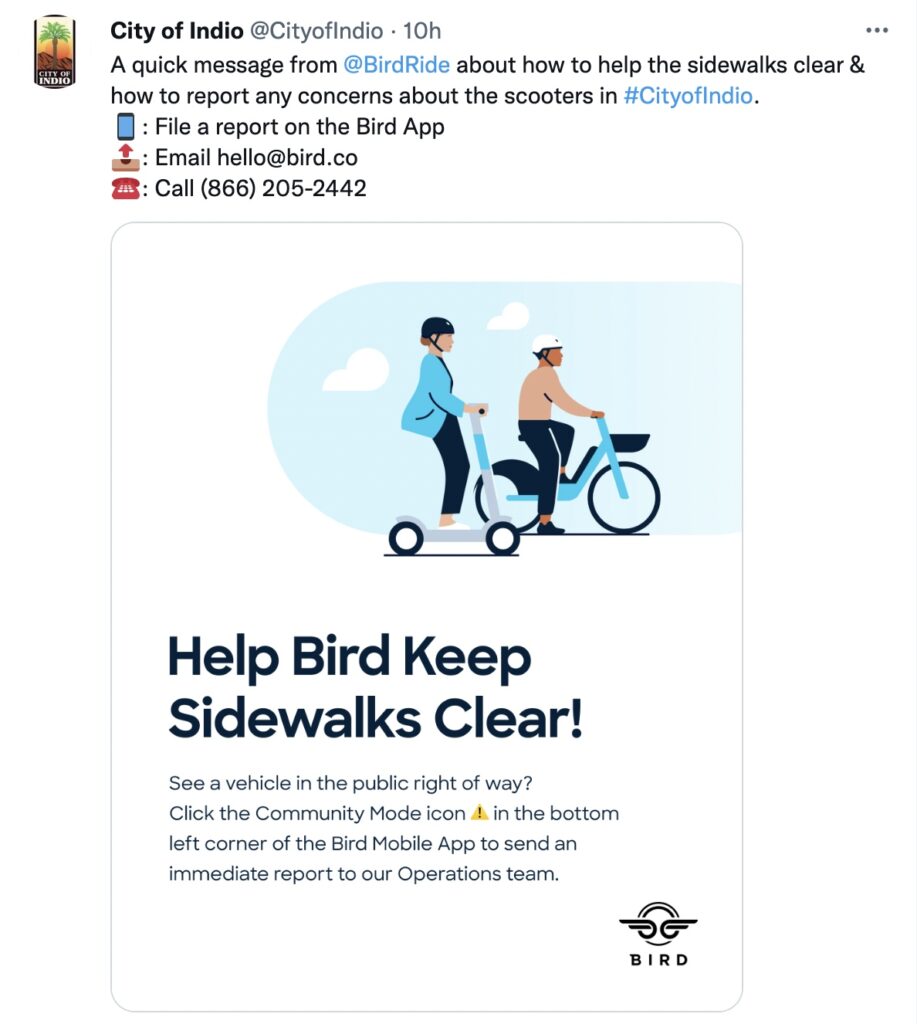 How to Safely Park a Bird Scooter in Indio

1. Where to park
When you're ready to end your ride, safely bring your vehicle to a stop and engage the anti-tip kickstand with your foot.
Birds should always be parked upright out of the public right of way. Please ensure that your vehicle is not in the center of the sidewalk, as this can cause serious disruptions for pedestrians and disabled persons. Additionally, please never block doorways, stairways, access ramps or transit stops. 
*Pro tip: No parking/no riding zones will be clearly marked in red in the Bird app. It is prohibited to park your Bird scooter on private property.
2. End your ride
Once your Bird is properly parked, simply tap the "End Ride" button in your Bird app. You will be prompted to take a photo of your vehicle in-app to ensure that it has been parked correctly. Once your photo has been submitted, you're good to go!
*Pro tip: Consistently parking your scooter incorrectly may result in a fine or account suspension.