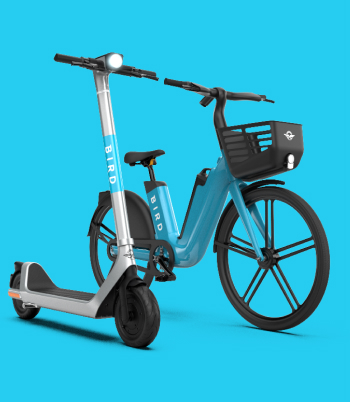 Download the app.

Bird Job Applicant Privacy Policy
This Job Applicant Privacy Policy ("Policy") describes how Bird ("Bird", "we", "us" and "our") collects, uses, and discloses "personal information" as defined under applicable law from and about job applicants.
This Policy does not apply to our handling of data gathered about you in your role as a user of our consumer-facing services.  When you interact with us as in that role, the Bird Privacy Policy applies.   
Types of Personal Information We Handle
We collect, store, and use various types of personal information through the application and recruitment process. We collect such information either directly from you or (where applicable) from another person or entity, such as an employment agency or consultancy, background check provider, or other referral sources. This information may include:
Identification and contact information, and related identifiers such as full name, date and place of birth, citizenship and permanent residence, home and business addresses, telephone numbers, email addresses.
Professional or employment-related information, including:

Recruitment, employment, or engagement information such as application forms and information included in a resume, cover letter, or otherwise provided through any application or engagement process; and copies of identification documents, such as driver's licenses, passports, and visas; and background screening results and references.
Career information such as job titles; work history; work dates and work locations; information about skills, qualifications, experience, publications, speaking engagements, and preferences; and professional memberships

Education Information such as institutions attended, degrees, certifications, training courses, publications, and transcript information.
Legally protected classification information such as race, gender, sexual orientation, veteran status and criminal history.
Other information such as any information you voluntarily choose to provide in connection with your job application.
How We Use Personal Information
We collect, use, share, and store personal information from job applicants for our and our service providers' business and operational purposes in the recruitment process such as: processing your application, tracking your application through the recruitment process, contacting references with your authorization, conducting background checks you authorize, and making hiring decisions. We will also use job applicant information for internal analysis purposes to understand the applicants who apply and to improve our recruitment process. We may sometimes need to use applicant information for legal purposes, such as in connection with any challenges made to our hiring decisions.
With Whom We Share Personal Information
We will disclose job applicant personal information to the following types of entities or in the following circumstances (where applicable):
Internally: to other Bird personnel involved in the recruiting and hiring process. 
Service Providers: such as technology service providers, travel management providers, human resources suppliers, background check companies, and employment agencies or recruiters, where applicable. 
Legal Compliance: when required to do so by law, regulation, or court order or in response to a request for assistance by the police or other law enforcement agency.
Litigation Purposes: to seek legal advice from our external lawyers or in connection with litigation with a third party.
Business Transaction Purposes: in connection with the sale, purchase, or merger of the company or any of its affiliates.
4. California Privacy Rights. If you are a California resident, the California Consumer Protection Act ("CCPA") grants you certain rights to know about our information practices and to control your information. Our Privacy Policy applies to everyone, but we use this notice to make disclosures required by the CCPA.
You have the right to know:
The categories of personal information we collect or disclose about you and the categories of sources of that information. See Types of Personal Information We Handle section of the Privacy Policy
How we use that information in our business operations. See How We Use Personal Information section of the Privacy Policy
The categories of third parties with whom we share/disclose personal information. See With Whom We Share Personal Information section of the Privacy Policy
You have the right to control your information by requesting:
Deletion of certain personal information we have about you
Correction of inaccurate Personal Information
California law places certain obligations on businesses that "sell" Personal Information to third parties or "share" Personal Information with third parties for "cross-context behavioral advertising" as those terms are defined under the California Consumer Privacy Act ("CCPA"). We do not "sell" or "share" the Personal Information covered by this Policy and have not done so in the twelve months prior to the effective date of this Policy. The CCPA also provides you with the ability to limit the use of your sensitive personal information for certain purposes. We do not process job applicant sensitive personal information for any purposes for which the right to limit applies.
You have the right to Access:
Access to and/or a copy of certain personal information we hold about you
Have an authorized agent exercise rights on your behalf
Please note that certain information may be exempt from such requests under California law. For example, we may not honor requests if the information you seek is protected by a legal privilege, seeks information beyond 12 months from the date of the request, or we reasonably believe the request is unfounded or excessive, among other possible reasons.
When you exercise one of your rights, we will take reasonable steps to verify your identity before responding to a request. In doing so, we may ask you for additional information so that we can match the identification information you provide to us with information we maintain in our files about you. If we are unable to verify you through this method, we have the right to request additional information from you.
You also have the right to not be discriminated or retaliated against for exercising your rights.
5.  How to Contact Us About this Policy – If you have any questions about this Policy, or would like to exercise any of the rights under this policy, please contact recruiting@bird.co.
Effective Date: 12/19/2022