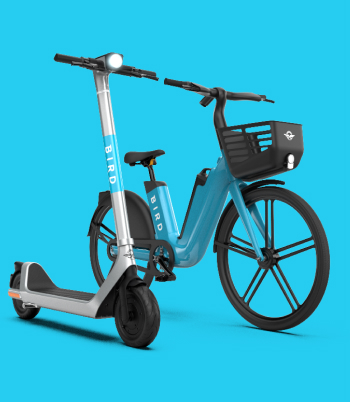 Download the app.

Campus
Ambassador
FAQ
What is my role as a campus ambassador?
We're looking for people like us who are passionate about micromobility and love riding with Bird! Your mission as an ambassador is to spread the word about Bird with friends, classmates, and anyone else around campus. You will receive a personalized coupon to share with others so that they can take Bird rides at a discount. We're looking to you as stewards of our brand and help us get creative with spreading the word of Bird.
What do I get for being an ambassador?
You will earn free rides (up to 15 minutes each) based off the number of people who use your link code. Earn free rides by gaining points in our program: each new rider who uses your code = 1 point and each existing rider who uses your code = 0.5 point. 5 points earns you 3 rides. You can earn up to 75 free rides a month!
You also will receive 25% off every additional ride you take during the duration of the program and the ambassador with the highest coupon code usage will receive a FREE BirdBike!
What is the discount I can provide to riders with my code?
Your promo code will give riders 5 minutes free on their next ride! Coupon is for one ride, single rider only.
Note: Minimum ride length still applies in select markets. Five minutes free would apply after the first 5 minutes of a ride in those markets.
When do I get my free rides?
You will receive the free rides you earned no more than 14 days after each monthly cycle ends. Free rides expire 90 days after they are received.
What happens after I apply?
The Bird team will review applications and choose ambassadors based on best fit for the program. If you are chosen, you will receive an email with more information about being an ambassador, a link to join a virtual onboarding session, and all materials to get started!
As an ambassador, am I considered a Bird employee?
No. Ambassadors are not being engaged as employees or service providers for Bird. It is a partnership whereby Bird provides the ambassadors with special access to discount codes to use and share with their friends, and our hope is that through this we can share the Bird ride experience with as many people as possible!
How long does the ambassador program last? How long is my coupon code valid?
The program lasts from September 12th to December 16th and your code will be valid during this time period.
How can I get people to use my coupon code?
That's up to you! You're welcome to post on social media, host events or whatever else you might come up with. We will provide templates for printable coupon cards as well as guidance on social media posting.
What if I want to stop being an ambassador?
We're sad to see you go, but hope you'll keep riding with Bird! You can end your participation in the Bird ambassador program whenever you'd like. Just send us an email at campus-ambassadors@bird.co to let us know.
Who do I contact for questions?
Email campus-ambassadors@bird.co with your questions and we'll get back to you shortly.