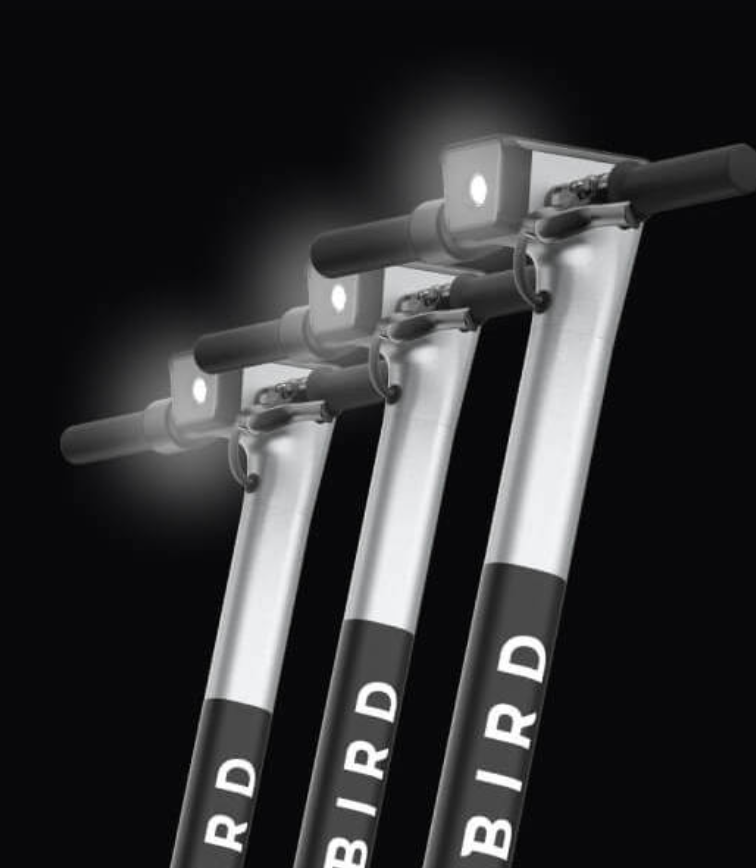 Download the app.
Bird Free Rides Promotion
Official Rules

---
EN
Promotion limited in time, valid through December 20th 2021. The promotion is subject to availability and redeemable only once per user. The promotion is not cumulative with other promotions, offer and/or discount code. The promotion is only active, valid and redeemable for certain territories where the service is available.
To activate the promotion follow these simple steps: open the Bird App on your device, select Menu, select Promos, enter code "FREE20". By entering the code "FREE20" you will receive a free ride for a maximum duration of 20 mins. At expiry of the "FREE20" promotion normal tariff will apply. Additional terms and conditions may apply, please see Bird Rental Agreement for more.
ES
Promoción limitada, válida desde el 1 de septiembre hasta el 31 de octubre de 2021. Promoción sujeta a disponibilidad y canjeable solo una vez por cada usuario. Promoción no acumulable a otras promociones, ofertas y/o códigos de descuento. La promoción es válida y canjeable solo para determinados territorios donde el servicio está disponible, los territorios actuales son los siguientes:
Berlín, DE
Frankfurt, DE
Stockholm, SE
Para activar la promoción sigue estos sencillos pasos: abre la aplicación Bird de tu dispositivo móvil, selecciona Menú, selecciona Promociones e introduce el código "FREE20". Al introducir el código "FREE20", recibirás 20 minutos de viaje gratis. Cuando finalice la promoción "FREE20", se aplicará la tarifa normal. Podrán aplicarse términos y condiciones adicionales, consulta el Acuerdo de alquiler de Bird para más información.
FR
Cette promotion est disponible pour une durée limitée allant du 1<sup>er</sup> septembre au 31 octobre 2021. Promotion valable dans la limite de la disponibilité et utilisable une seule fois par utilisateur. Promotion non cumulable avec d'autres promotions, offres et/ou codes de réduction. Promotion active, valide et utilisable uniquement dans certains territoires où le service est disponible :
Berlin, Allemagne
Francfort, Allemagne
Stockholm, Suède
Pour activer la promotion, il vous suffit de suivre ces étapes : ouvrez l'application Bird sur votre appareil, allez dans Menu, puis dans Promos, et saisissez le code « FREE20 ». Vous recevrez alors un trajet gratuit d'une durée maximale de 20 minutes. Une fois la promotion arrivée à expiration, le tarif standard s'applique. Des conditions générales supplémentaires peuvent s'appliquer. Pour plus d'informations à ce sujet, veuillez consulter le Contrat de location Bird.
DE
Die Aktion gilt nur vom 1. September 2021 bis zum 31. Oktober 2021. Das Angebot unterliegt der Verfügbarkeit und kann nur einmal pro Benutzer eingelöst werden. Das Angebot kann nicht mit anderen Angeboten, Promos und/oder Rabattcodes kombiniert werden. Das Angebot ist nur in bestimmten Regionen aktiv, gültig und einlösbar. Der Service muss in diesen Regionen verfügbar sein, was auf die folgenden Regionen zutrifft:
Berlin, DE
Frankfurt, DE
Stockholm, SE
Um das Angebot zu aktivieren, musst du die folgenden Schritte durchführen: Öffne die Bird-App auf deinem Gerät, gehe ins Menü und zu den Angeboten, und gib dann den Code "FREE20" ein. Durch die Eingabe des Codes "FREE20" erhältst du eine kostenlose Fahrt für eine Dauer von maximal 20 Minuten. Nachdem das Angebot von "FREE20" abgelaufen ist, wird der normale Tarif abgerechnet. Es können zusätzliche Geschäftsbedingungen gelten; sieh dir dazu den Bird-Mietvertrag an.
NB
Tidsbegrenset kampanje, gyldig fra 1. september 2021 til 31. oktober 2021. Kampanjen er avhengig av tilgjengelighet og kan kun innløses én gang per bruker. Kampanjen er ikke kumulativ med andre kampanjer, tilbud og/eller rabattkoder. Kampanjen er bare aktiv, gyldig og innløsbar for visse områder der tjenesten er tilgjengelig. De nåværende områdene er som følger:
Berlin, DE
Frankfurt, DE
Stockholm, SE
For å aktivere kampanjen følger du disse enkle trinnene: Åpne Bird-appen på enheten din, velg Meny, velg Kampanjer, skriv inn koden «FREE20». Ved å skrive inn koden «FREE20» vil du få en gratis tur i maksimalt 20 minutter. Ved utløpet av «FREE20»-kampanjen vil normal tariff gjelde. Ytterligere vilkår og betingelser kan gjelde. Se Birds leieavtale for mer informasjon.
PT
Promoção por tempo limitado. Válida de 1 de setembro a 31 de outubro de 2021. A promoção está sujeita à disponibilidade e é resgatável apenas uma vez por utilizador. A promoção não acumula com outras promoções, ofertas e/ou códigos de desconto. A promoção apenas está ativa, é válida e resgatável em determinados territórios onde o serviço está disponível. Os territórios atuais são os seguintes:
Berlim, DE
Frankfurt, DE
Estocolmo, SE
Para ativares a promoção, segue estes passos simples: abre a App Bird no dispositivo, seleciona Menu, seleciona Promoções e introduz o código "FREE20". Ao introduzires o código "FREE20", vais receber uma viagem grátis com uma duração máxima de 20 minutos. Após a promoção "FREE20" expirar, aplica-se a tarifa normal. Podem aplicar-se termos e condições adicionais. Vê o Acordo de Aluguer da Bird para obteres mais informações.
IT
Promozione limitata nel tempo, valida dal 1 settembre 2021 al 31 ottobre 2021. La promozione è soggetta a disponibilità e riscattabile una sola volta da ciascun utente. La promozione non è cumulabile con altre promo, offerte e/o codici sconto. La promozione è attiva, valida e riscattabile solo per alcuni territori in cui il servizio è disponibile, i territori attuali sono i seguenti:
Berlino, DE
Francoforte, DE
Stoccolma, SE
Per attivare la promozione, segui questi semplici passaggi: apri l'App Bird sul tuo dispositivo, seleziona Menu, seleziona Promo, inserisci il codice "FREE20". Inserendo il codice "FREE20" riceverai una corsa gratuita della durata massima di 20 min. Alla scadenza della promozione "FREE20", verrà applicata la normale tariffa. Potrebbero essere applicati termini e condizioni aggiuntivi, consulta il contratto di noleggio Bird per ulteriori informazioni.
HE
המבצע מוגבל בזמן, והוא תקף מ-1 בספטמבר, 2021 עד 31 באוקטובר, 2021. המבצע כפוף לזמינות וניתן לממש אותו רק פעם אחת לכל משתמש. לא ניתן לשלב את המבצע עם מבצעים, הצעות ו/או קודי הנחה אחרים. המבצע פעיל, תקף וניתן למימוש רק באזורים מסוימים שבהם השירות זמין. האזורים הנוכחיים הם כדלקמן:
ברלין, גרמניה
פרנקפורט, גרמניה
שטוקהולם, שוודיה
כדי להפעיל את המבצע, בצעו את השלבים הפשוטים הבאים: פתחו את אפליקציית Bird במכשיר שלכם, בחרו 'תפריט', בחרו 'מבצעים' והזינו את הקוד FREE20. בעצם הזנת הקוד FREE20, תקבלו רכיבה חינם למשך 20 דקות לכל היותר. בתום תפוגת המבצע FREE20, יחול התעריף הרגיל. ייתכן שיחולו תנאים והתניות נוספים. למידע נוסף, עיינו בהסכם השכירות של Bird.
SV
Kampanjen är tidsbegränsad, gäller från 1 september 2021 till 31 oktober 2021. Kampanjen är beroende av tillgänglighet och kan endast lösas in en gång per användare. Kampanjen är inte kumulativ med andra kampanjer, erbjudanden och/eller rabattkoder. Kampanjen är endast aktiv, giltig och kan lösas in för vissa territorier där tjänsten är tillgänglig, de aktuella territorierna är följande:

Berlin, DE
Frankfurt, DE
Stockholm, SE
Följ dessa enkla steg för att aktivera kampanjen: öppna Bird-appen på din enhet, välj Meny, välj kampanjer, ange koden "FREE20". Genom att ange koden "FREE20" får du en gratis resa under en maximal tid på 20 minuter. Vid utgången av "FREE20" -kampanjen gäller normal taxa. Ytterligare villkor kan gälla, se Birds Hyresavtal för mer information.
NL_BE
Promotie beperkt in de tijd, geldig van 1 september 2021 tot 31 oktober 2021. De promotie is afhankelijk van beschikbaarheid en kan slechts eenmaal per gebruiker worden ingewisseld. De promotie is niet cumuleerbaar met andere promoties, aanbiedingen en/of kortingscodes. De promotie is alleen actief, geldig en inwisselbaar voor bepaalde grondgebieden waar de service beschikbaar is; de huidige grondgebieden zijn als volgt:
Berlijn, DE
Frankfurt, DE
Stockholm, SE
Om de promotie te activeren volg je deze eenvoudige stappen: open de Bird-app op je toestel, selecteer Menu, selecteer Acties, voer de code "FREE20" in. Door de code "FREE20" in te voeren, krijg je een gratis rit met een maximale duur van 20 minuten. Na het vervallen van de "FREE20"-promotie zal het normale tarief van toepassing zijn. Er kunnen aanvullende voorwaarden van toepassing zijn, zie de Bird huurovereenkomst voor meer informatie.