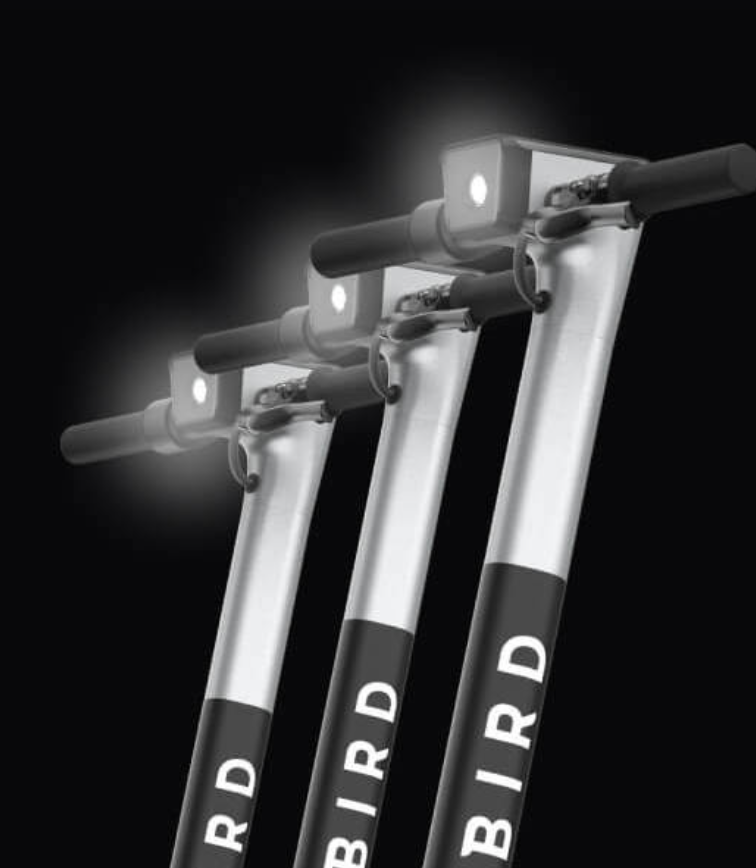 Descarga la aplicación
Bird Charger Photo Contest Official Rules
---
By participating in the Bird Charger Photo Contest ("Contest"), you agree to be fully bound by these rules, together with contest details announced by Bird, and represent and warrant that you meet the eligibility requirements. No purchase is necessary to enter or win, and purchase does not enhance chances of winning.
Contest Sponsor is Bird Rides, Inc., 406 Broadway #369, Santa Monica, CA 90401.
Eligibility. Entry is limited to Bird Chargers in good standing, aged 18 and older who are residents of the United States. Void where prohibited or restricted by law.

Directors, officers, shareholders, employees, and agents of Sponsor, Sponsor's affiliates, or Sponsor's advertising and/or promotional partners, and their immediate families, are not eligible.

Bird intends to hold this Contest periodically. To enter, follow the contest details announced by Bird ("Details"), which unless otherwise specified include the following:

Entries must be received during the contest period. Unless otherwise specified in the Details, times are in Pacific time zone and days shall end at 11:59pm Pacific time.
Entries must be made as specified in the Details. No other entry method will be accepted.
Entries are limited to one (1) per person per contest.

Entry requirements.

Entrants warrant that their submission is their original work and does not infringe on or violate the rights of any third parties.
By submitting an entry, you hereby grant the Sponsor, its affiliates, subsidiaries, assigns, and licensees the irrevocable, perpetual, worldwide right to use, reproduce, edit, market, store, distribute, publicly and privately display the content of the entry for editorial, commercial, promotional and all other purposes.
An entry deemed inappropriate or offensive may be deemed ineligible in Sponsor's sole discretion.
By participating in this Contest, entrants agree to release, discharge and hold harmless Sponsor and its subsidiaries and affiliates, its advertising and promotion agencies, as well as Contest Platform, and each of their directors, officers, shareholders, employees and/or agents, from and against any and all claims, damages, liability, losses, and expenses arising out of the contest or acceptance, use, or misuse of any prize received in the contest. Winner assumes liability for injuries caused or claimed to be caused by participating in the contest, or by the acceptance, possession or use of any prize.

Prize Winner Selection.

Winners will be determined by Sponsor's Charger Ops team, whose decisions are final on all matters relating to the contest.
Unless otherwise specified in the Details, criteria for selecting winners are: originality, creativity, and alignment with Bird's mission.
Winners will be notified via email on or prior within 7 days following the end of the contest period with instructions on how to claim prize.
Sponsor may select up to three (3) winners.
Cash redemption, exchange or substitution is not allowed.
Sponsor may substitute a prize of equal or greater value for any prize that is not available for any reason.

Prize. Each winner will receive $20 in Bird rider credit.

Prize winners are responsible for all expenses not listed in these rules and for payment of any applicable federal, state, and/or local taxes and compliance with all applicable laws and regulations.
By accepting the prize, the winner grants permission to the Sponsor to use his or her name and/or photographs, likenesses, voices, any statement by winner, name and biographical information for publicity and promotional purposes without further compensation unless prohibited by law.
Potential prize winners may be required to follow the reasonable instructions of Sponsor in order to claim prize.

Additional Terms.

By entering the contest, entrants agree that: any and all claims, judgments and awards will be limited to actual out-of-pocket costs incurred, including costs associated with entering the contest but in no event attorneys' fees; and under no circumstances will any entrant be permitted to obtain any award for, and entrant hereby waives all rights to claim punitive, incidental or consequential damages and any and all rights to have damages multiplied or otherwise increased and any other damages, other than for actual out-of-pocket expenses.
By entering a Contest, entrants agree to be bound by these Official Rules. Entrants further agree to be bound by the decisions of the Sponsor which will be final and binding in all respects. The Sponsor reserves the right, at its sole discretion, to disqualify any individual found to be tampering with the entry process; to be acting in violation of these Official Rules; or with intent to annoy, abuse, threaten or harass any other person. Contest is governed by the laws of the State of California without respect to conflict of laws.
Sponsor and participating promotional agencies (and the subsidiaries and affiliates of each) are not in any way responsible or liable for damage, loss, or injury resulting from late, lost, damaged, misdirected, or illegible entries, or phone, computer, or other technical malfunctions. Sponsor is not responsible for any technical or human error which may occur in the processing of entries in the contest. If, for any reason, the contest is not capable of running as planned, including tampering, fraud, technical failures, or any other causes beyond the control of the Sponsor, which corrupt or affect the administration or proper conduct of the contest, Sponsor reserves the right at its sole discretion to cancel, terminate, or modify the contest.