A little help goes a long way.
At Bird, we're constantly striving to improve our service in cities. While many innovations require careful listening and development work, sometimes all we need is a helping hand.
That's the idea behind our new "Please help me up" initiative. Product developments like Bird's tip detection technology and anti-tip kickstand go a long way in preventing tipped Birds, but occasionally scooters can still sometimes be left (intentionally or unintentionally) on their side.
To help discourage behavior that may lead to tipped scooters, and as a reminder that sometimes we can all use a little pick-me-up, we'll be equipping the underside of our Bird scooter baseboards with a simple, eye-catching, reflective message that says "Please help me up".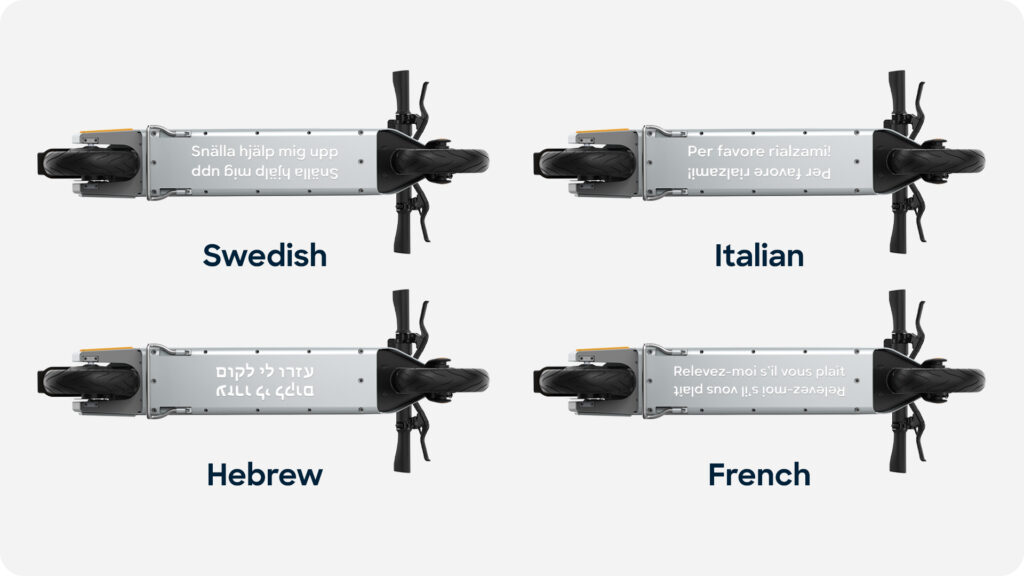 Community Mode

Of course, not everyone is in the position to pick up a tipped scooter. And despite Bird's commitment to safe, efficient operations, other problems might arise.
That's why we developed our Community Mode reporting tool. Located directly on the opening screen of the Bird app, Community Mode creates a direct link between the public (riders and non-riders alike) and our support team. Community members who notice a misparked or damaged Bird vehicle can quickly notify us by following a few easy steps—that's it!
If you've never used Community Mode, or if you just need a refresher, here's a quick 3-step guide to reporting a Bird scooter issue:
Step 1.) Open the Bird App
If you spot a Bird issue in your community that you'd like to report, the first step is to open the Bird app. You'll immediately be taken to our service map. Here, in the bottom left corner of the screen, you'll find our Community Mode icon designated by the ⚠ symbol.
Step 2.) Tap the Community Mode Icon ⚠
Tapping on the Community Mode icon will immediately open a new window with several options:
Damaged Bird
Poorly Parked Bird
Contact Us/Get Help
Select the option that most closely aligns with the issue you've experienced.
Step 3.) Explain and Submit Issue
Once you've selected the appropriate option, please fill in as much detail as you have time to provide. We'll automatically geo-localize the position of the vehicle, but you'll have the option to take a photo and scan the QR code as well. When you're ready, just press submit and the appropriate team will review your issue ASAP.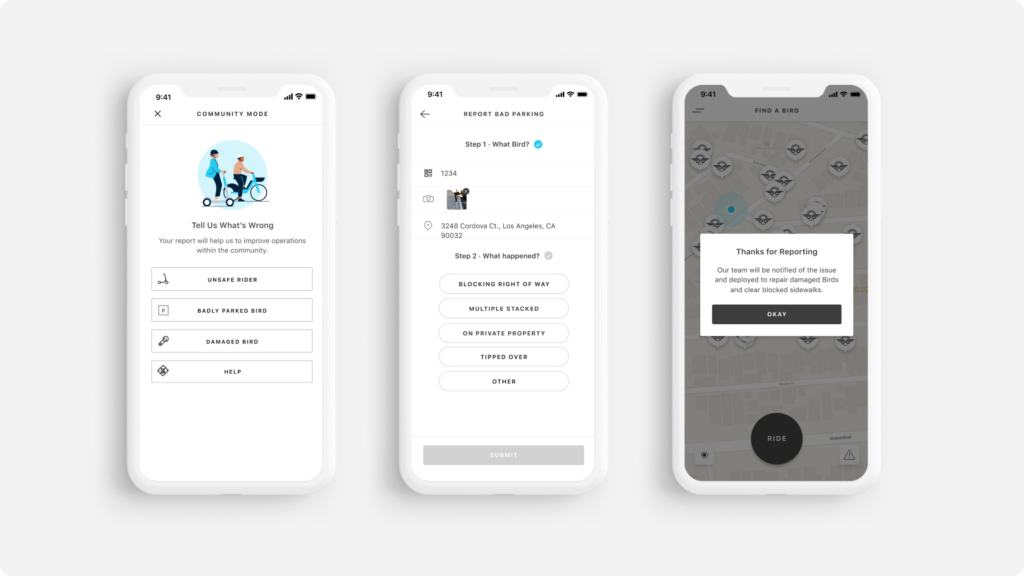 For more news about how Bird is working with cities to deliver the best micromobility service possible, follow the Bird Cities Blog.