Sustainability, safety and smart technology.
These are the principles that are moving the micromobility industry forward. They're also the driving force behind our newest scooter model, the Bird Three. 
Designed and built by the only micromobility team with experience serving riders in more than 200 cities around the world, the hardware and software powering Bird Three have been expertly crafted to keep riders safe, cities clean and, most importantly, carbon emissions as low as possible.
The reason we've done this is simple: if countries like the US and others are to meet their long-term climate goals, as much as 90% of all road vehicles must be electrified and 20% of all vehicle miles reduced by the end of the decade. That means more cities and more riders will soon be relying on micro-electric vehicles instead of two-ton, gas-powered automobiles to meet their short-distance transportation needs.
According to Scott Rushforth, Bird's Chief Vehicle Officer, "Bird is leading the way in safe, smart and sustainable transportation. Every aspect of the Bird Three has been thoughtfully designed to reduce its environmental impact, beginning with a bigger battery that's more eco-friendly and can power more rides on a single charge than any other shared scooter."
Bird Three: The World's Most Eco-Conscious Scooter

The all-new Bird Three is the culmination of four years of experience working in partnership with cities to turn drivers into micromobility riders. It was developed by our in-house team of engineering and vehicle design experts to provide the safest, smartest riding experience possible—all with an unrelenting focus on sustainability.
It all starts with Bird Three's eco-conscious battery system. A scooter's battery is directly linked to its environmental impact, and those with smaller batteries require more frequent charging and power fewer trips per charge. Scooters with swappable batteries can compound the issue and increase greenhouse gas emissions by requiring an estimated 1.5 to 2 batteries per vehicle. In other words, smaller and swappable batteries lead to higher overall manufacturing emissions and require more vehicle miles traveled to retrieve, replace and recharge scooters.
Bird Three, however, has a battery capacity of up to 1 kWh, meaning it requires less frequent charging and delivers more miles traveled on a fully charged battery than any other shared scooter available today. More miles traveled leads to more sustainable rides and, ultimately, decreased carbon emissions throughout the vehicle's entire life cycle.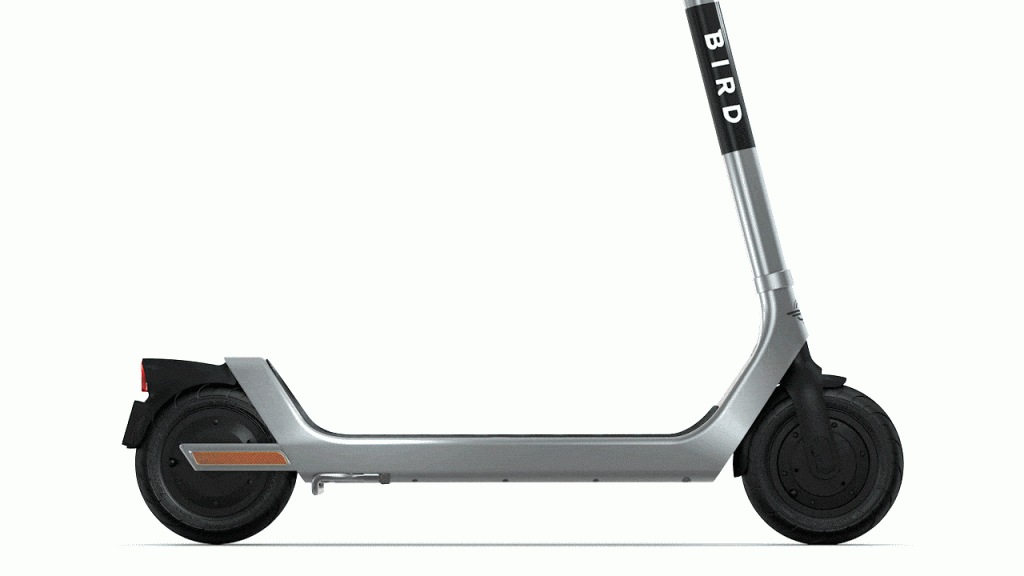 But the eco-conscious design doesn't stop there. We've combined this high-capacity battery with real-time diagnostic monitoring that automatically optimizes output for prolonged battery life and encased it all in hermetically sealed, tamper-proof, industry-leading IP68-rated protection to keep it safe from dust, water and theft. The result is the safest, most advanced and most sustainable shared scooter battery system available anywhere.
The same attention to detail has gone into every facet of Bird Three, from its enhanced dual-sensor throttle and triple braking system (dual independent handbrakes and the industry's only Autonomous Emergency Braking) to improved handling and stability and a super-advanced operating system. We've also intentionally designed the scooter to share many of its service parts with Bird Two, cutting back on the need for additional carbon-intensive manufacturing.
Bird Three Features

Let's get more detailed. The all-new Bird Three includes:
Most Sustainable Battery
Increased Capacity: With capacity for smart batteries of up to 1 kWh, Bird Three can travel farther and remain on the street longer while requiring significantly fewer recharges.
IP68-Rated: Industry's best protection against water and dust damage keeps Bird Three batteries safely running past 14,000 miles.
Structural Integration: Like the

newest Teslas

, structural batteries reduce vehicle mass, improve range and sustainability and remain connected to Bird Three's telematics and cloud communications.
Hermetically Sealed Battery Casing: Fully weatherproof and tamper-proof casing keeps riders safe.
Unrivaled Durability
Multi-Material Chassis: Aerospace-grade A380 mated to an AL6061 extrusion provides best-in-class durability.
Impact Resistant: Independently tested and verified to withstand more than 60,000 curbside impacts, Bird Three is built for the rigors of shared use.
Anti-Tip Kickstand: Bird Three stands upright on any surface and is very difficult to tip over thanks to its multiple points of contact with the ground.
Automotive-Grade, Self-Sealing Pneumatic Tires: Our proprietary tire design ensures a soft ride over all surfaces without risk of getting a flat or requiring complicated suspension systems that are prone to safety issues.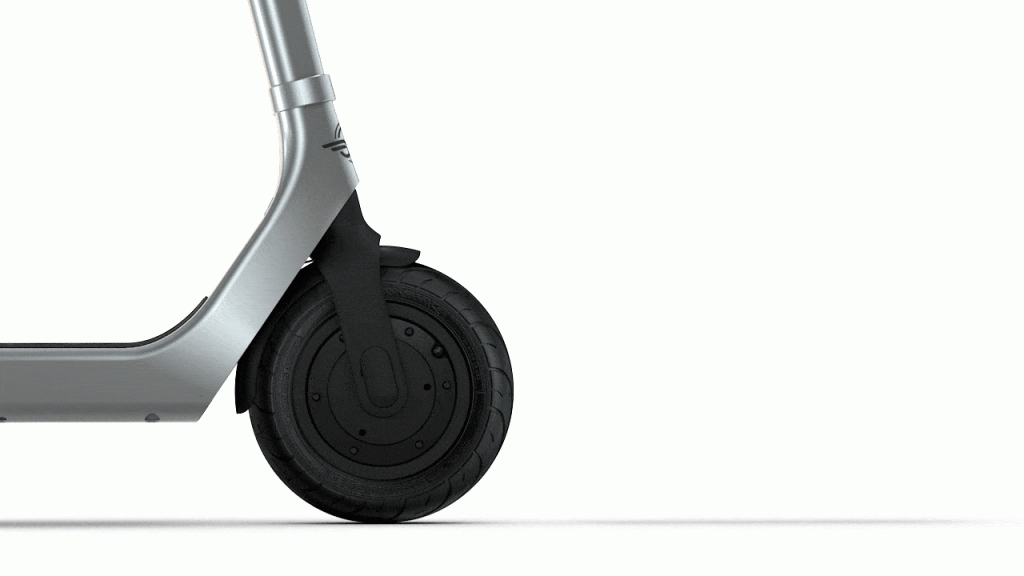 Industry-Leading Braking
Dual Independent Brakes: Superior braking performance on each wheel that results in a shorter stopping distance.
Autonomous Emergency Braking: The industry's only

active safety technology

designed to prevent brake failure.
2x Hidden Brake Cables: Hidden and covered brake cables to increase protection against weather damage and vandalism.
Smart Acceleration Technology
Dual-Sensor Throttle: Automotive-grade acceleration that provides functional safety and absolute accuracy in speed control through two independent measurements.
Beginner Mode: A gentle

acceleration option

that lets new riders gradually work their way up to full speed.
Proprietary Bird Operating System
Over-the-Air Upgrades: Our industry-leading operating system allows us to instantly and wirelessly apply the latest system updates to Bird Three.
Speed Zone and Sidewalk Compliance: Bird OS enforces strict adherence to speed limits, no-ride and reduced-speed zones in cities, including improved sidewalk detection.
Auto-Calibration: Brake sensors are automatically calibrated to ensure accuracy and safety.
Anti-Theft Encryption: Encrypted embedded software keeps riders safe and helps deter theft.
Real-Time Diagnostics
Real-Time Fault Detection: Millions of daily autonomous fault checks allow us to detect and respond to potential issues in real time.
200+ On-Vehicle Sensory Inputs: Fully customizable diagnostic sensors monitor every component of Bird Three.
Intuitive Handling
Extended Chassis: A longer wheelbase provides more stability on all terrains, creating a better vehicle fit for more individuals and improving riders' overall comfort.
Wider Handlebars: More surface area means Bird Three's handlebars are easier to grip and provide better handling.
Antimicrobial Grips: Added protection helps keep all riders healthy and safe.
Exceptional Visibility
Neck Status Light: New, highly visible status indicator lets riders and team members immediately know the health and charge of a vehicle even from across the street.
German K-Mark-Certified LED Headlight and Brake Light: High-powered automatic lighting certified to the highest standards of road safety provides superior visibility while riding, even during daylight hours.

To learn more about our industry-leading vehicles or upcoming Bird Three launches happening around the world, subscribe to the Bird Cities Blog.