On March 11th, less than a week before strict quarantine measures were enacted in the French capital, we teamed up with Plume Labs to measure street-level pollution in Paris. The results were typical of a major capital city, aglow with spikes of red on Plume Labs' air quality index indicating where our team members were exposed to the highest amount of pollution (usually areas with the most traffic).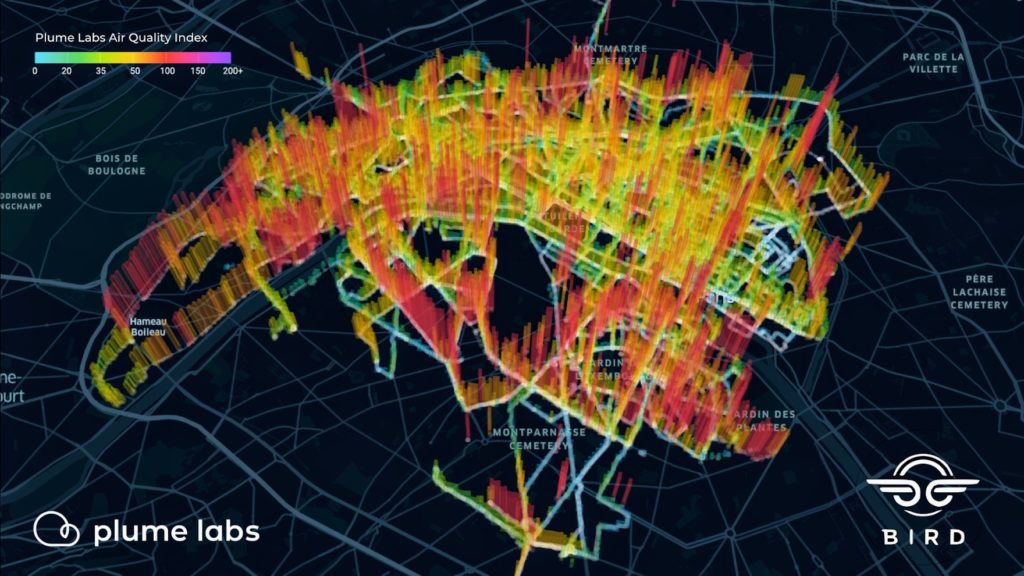 Then something happened.
Almost overnight, Parisian streets were emptied of cars as well as approximately 17% of the people driving them. The effect on the ground was rapid and dramatic, with Airparif reporting that, by March 25th, the city was experiencing the best air quality on record in at least 40 years.
To put this change in perspective, the team at Plume Labs measured nitrogen dioxide (NO2) levels the day before the quarantine went into effect and compared them to those recorded one week later. According to Dr. Boris Quennehen, Atmospheric Scientist at Plume Labs, "NO2 is the urban pollutant most directly linked with people's movement in the city, as a major source of this gas is car and truck exhaust." The results are remarkable.

Interestingly, this pronounced reduction in automobile-related pollution potentially speaks as much to Paris' near future as it does to its past. The City of Light has been going through an urban transformation in recent years thanks in large part to its unabashedly "green" Mayor Anne Hidalgo. The Socialist Party leader is halfway through an ambitious campaign to transform Paris into a modern pedestrian and cyclist-centered city, complete with 15-minute neighborhoods and 100% bike-friendly streets by 2024.

If you think this is a utopian dream, consider the following stats:
Between 2018-2019, the number of Parisians cycling rose by 54%
Between 2010-2019, there has been a 5% decrease in car trips in Paris
Since the summer of 2018, Paris has become the global leader in daily electric scooter trips
The entire Île-de-France region, which includes Paris, sees more than 800,000 bike trips per day
Between 2020-2024, an additional 60,000 car parking spaces are slated to be reclaimed by the city to extend cycling and scooter infrastructure

In a very real sense, COVID-19 and its resulting city lockdown has fast-forwarded the clock on Paris' transition towards sustainability, giving residents a clear understanding of the health and environmental benefits associated with removing cars from the road.

The question is now, in the wake of this global pandemic, will Parisians take this lesson to heart and opt to leave their cars at home once stay-at-home measures begin to lift beginning in May?