Measuring urban air pollution is valuable work. It's the kind of information that helps you understand your personal exposure, improve your living and working conditions and, most importantly, drive legislative changes in your city.
But how do you accurately capture air quality data in some of a major world capital's hardest-to-reach areas? If you've got the right partner, it turns out the answer is pretty simple:
Call in the scooters.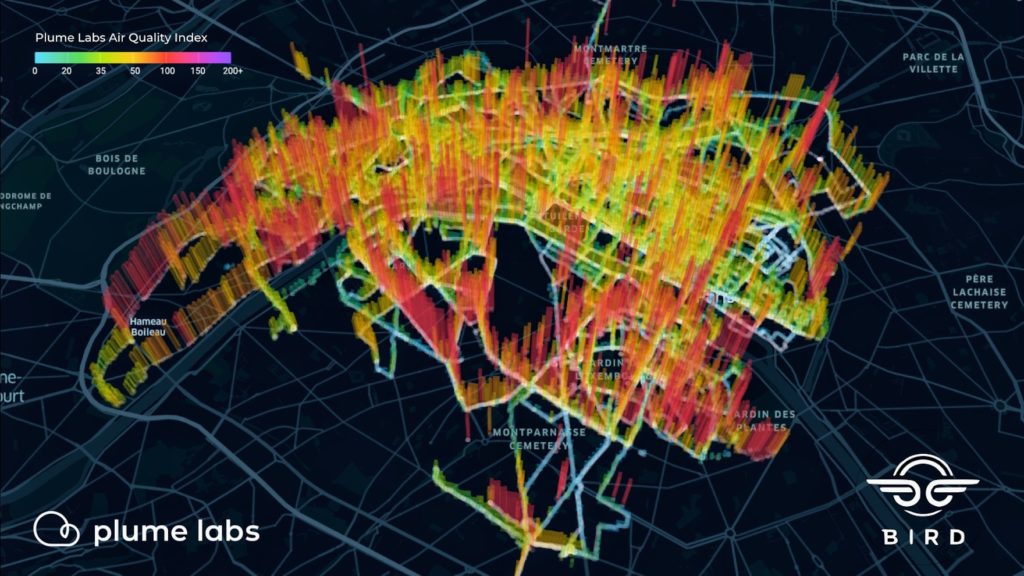 That's what the team at Plume Labs in Paris did in late February, partnering with Bird to equip our on-the-ground Bird Watchers team with high-quality air pollution sensors as they set to work maintaining, deploying and redistributing shared electric scooters throughout the city.
After just two weeks, our team traveled close to 1,500 miles measuring the concentration of nitrogen dioxide (NO2) and particulate matter (PM2.5 and PM10) at various times throughout the day. Nearly 300,000 data points were collected in all—information that Plume Labs is now using to enhance the accuracy of their street-by-street air quality maps.
"There are lots of places that could benefit from having an air quality monitoring network but don't necessarily have the budget or expertise to create and maintain one," Plume said in a blog post. "We've teamed up with Bird to show that high quality pollution data can be collected by citizens. So far, it's looking pretty amazing."
The collaboration between Bird and Plume Labs is part of our company-wide commitment to sustainability in cities around the world. Just last week, the Bird team signed with ekWateur in France to supply our service centers with electricity sourced from local green energy producers.
Keep your eyes on the Bird blog for more data and updates on our commitment to cleaner, more livable cities. Every step and every ride make a difference.