Local businesses have been some of the hardest hit by the COVID-19 pandemic, but there are things we can all do to help.
Beginning today, Bird is piloting a new in-app feature that allows riders to quickly identify restaurants serving takeout and delivery in our hometown of Santa Monica. Simply open the updated Bird app and participating establishments will be clearly marked on the map using colored pins. When tapped, featured restaurants will expand to display pertinent details such as address, photos and contact information.
Update: This feature is now available in a number of markets across North America and Europe including Antwerp (BE), Paris (FR), Dallas (US), Denver (US), San Francisco (US), San Jose (US) and St. Louis (US).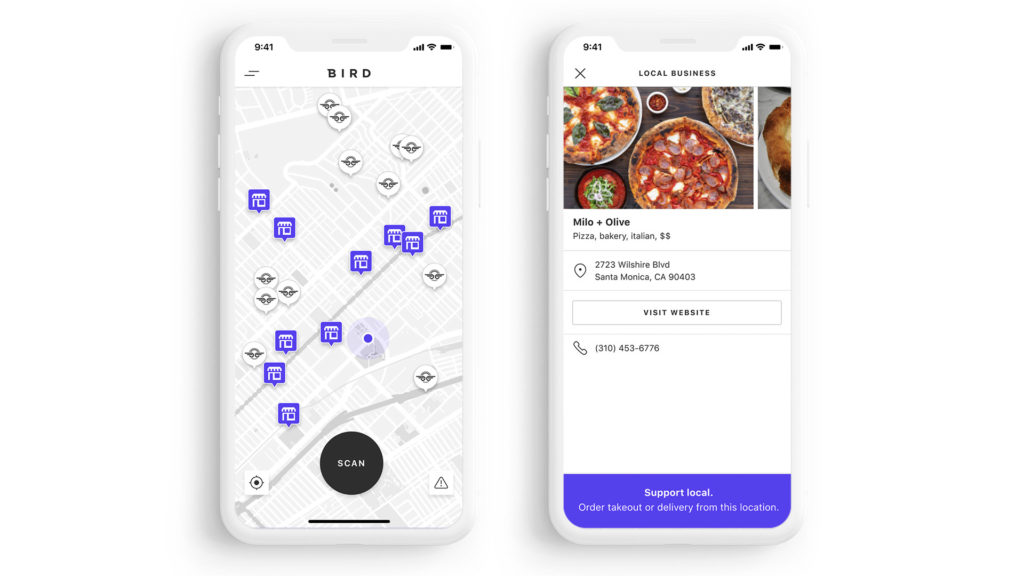 In the midst of a global health crisis that is affecting millions around the world, supporting communities safely and intelligently has never been more important. We know that nearly 60% of Bird riders use micromobility to connect to commerce in their area. By highlighting nearby local restaurants, we hope to make it easier for them to support their favorite local businesses while adhering to safe social distancing guidelines.
Our team will be closely monitoring the results of the pilot to determine the feasibility of extending the service to other cities as well.
When it comes to seeing our communities through this emergency, we're all in this together:
For more information on how you can support small businesses throughout the US, visit

helpmainstreet.com

. The newly-created website enables visitors to purchase gift cards from local vendors across the country, supplying them with much needed revenue today that can be redeemed when the COVID-19 pandemic subsides.
Read Bird founder and CEO Travis VanderZanden's

message to riders here

.
Learn more about supporting restaurants in Santa Monica by visiting the city's official

food delivery and pickup guide

.